Convenient and Reliable Concentration, Purification, and Diafiltration of 20 to 60 mL Biological Samples
Typically concentrates 60 mL sample volumes to 5 mL in 30 minutes
Provides high recoveries, typically > 90%
Low protein-binding Omega™ membrane and polysulfone housing minimize losses due to non-specific binding
Versatile Omega membrane is available in a variety of MWCOs, color-coded for easy identification
Built-in deadstop prevents spinning to dryness
Unique sealing mechanism prevents retentate leakage and filtrate contamination
Economical - Sample reservoir and filtrate receiver can be sanitized or autoclaved, and reused
"Pall Laboratory products are designed for laboratory applications only. This product is not approved for use in medical, clinical, surgical or other patient applications. If you require further assistance in product selection for your chosen application, please contact Labcustomersupport@pall.com or call 1-800-521-1520."
Replaces dialysis, chemical precipitation, and lyophilization in the following applications:
Concentrating and desalting proteins
Exchanging buffer or removing salt from chromatography eluates and gradient fractions
Separating biomolecules from cell culture supernatants
Concentrating or removing viruses
Performing crude fractionation of protein mixtures
Removing debris and particulates from cell lysates
Materials of Construction
Filter Media: Omega (modified polyethersulfone) membrane
Sample Reservoir and Filtrate Receiver: Polysulfone
Sample Reservoir Cap: Polyethylene
Insert Without Membrane: High density polyethylene
Filtrate Receiver Cap and Insert Release: Polypropylene
Effective Filtration Area
Dimensions
Outside Diameter (Maximum): 6 cm (2.4 in.)
Overall Height (Fully Assembled with Cap): 11.3 cm (4.5 in.)
Capacities
Maximum Sample Volume: 60 mL
Final Concentrate Volume: 3.5 - 4 mL
Maximum Filtrate Receiver Volume: 60 mL
Hold-up Volume (membrane/support): 0.2 mL
Operating Temperature Range
pH Range
Centrifuge
Swinging bucket rotor is required that accepts flat-bottomed 250 mL bottles and is capable of spinning at up to 3,000 x g
Sanitization
Provided non-sterile. The entire device, including the filter media, may be sanitized by filtering 70% ethanol through it prior to use. The sample reservoir and the filtrate receiver can be autoclaved. Do not autoclave the filter media.
Jumbosep™ Device Reduces Processing Time Over Other Devices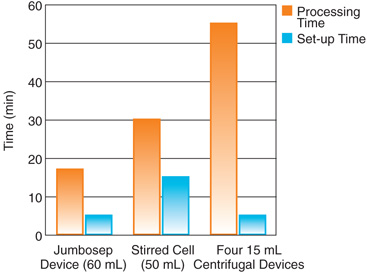 1 mg/mL BSA solution was processed in each of the above devices until a 15-fold concentration is achieved.
Concentration Time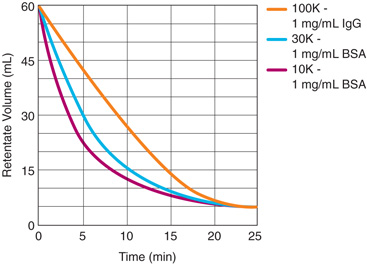 Concentrate dilute protein samples in less than 30 minutes with 10, 30, and 100K Jumbosep devices.