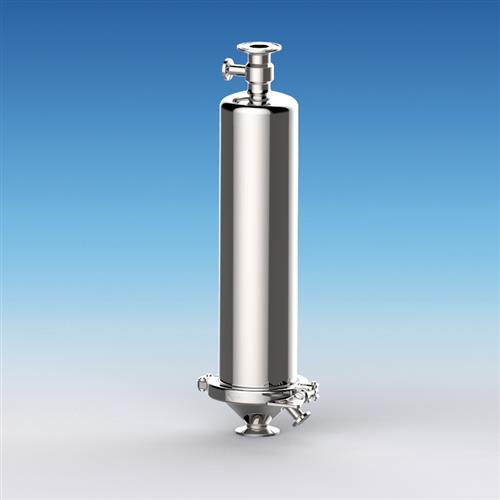 ASME BPE conformant modular housings for sanitary applications
This range of high-quality filter housings for critical liquid and gas filtration applications has been designed and built in conformance with ASME Bioprocessing equipment (BPE) standards for high levels of sanitary requirements. This reflects in the choice of materials, the designs, and the manufacturing process, including weld procedures and surface finishes. All connections are exactly in accordance with ASME BPE and are fully compatible with ASME BPE pipework. By adopting this industry standard, Pall Advanta II housing users can further increase quality and have confidence that they are conforming with established safety standards.
(For more information on ASME BPE please refer to https://www.asme.org)
This housing range accepts one single-open-ended Pall code 7 and Code 2 'AB' style filter cartridge. Other Pall Advanta II housing formats for gas and liquid are also available.
Features and Benefits
Aseptic design with crevice-free electropolished surfaces (internal Ra value < 0.375 μm / 14.8 μin), fully self-draining and no dead legs, enabling low point drainage and supporting low hold-up volumes for maximum product recovery
Flexibility and modular design: Variety of inlet and outlet connections as part of the core housing, and a range of modular interchangeable vent and drain connections to choose from, enabling flexible fit into any facility, and reconsideration of vent and drain option without the need to replace the entire housing
Filter cartridge accepts one single-open-ended Pall code 7 and code 2 'AB' style 127 mm (5 in.), 254 mm (10 in.), 508 mm (20 in.) and 762 mm (30 in.) height filter cartridges
Compliances:

European Pressure Equipment Directive (PED) 2014/86/EU
ATEX Directive 2014/34/EU (Group ll Category 2)
3-A Sanitary Standards (except for optional drain and vent valves)
CSA B51 (Canadian Registration Number (CRN) on drawings)
Designed and manufactured in conformance with ASME BPE standards (latest revision)

Documentation:

All housings include a documentation package containing the declarations of conformity to PED and ATEX, the material and surface finish certificates, the assembly drawing and the instruction and operation manual. Additional documentation packages are available through your Pall sales representative