Removal Rating
0.2 µm
Membrane Material
PTFE
Effective Filtration Area (Metric)
19.6 cm²
Sterilization Option(s)
Suitable for Autoclave
販売単位
PAC
最少受注数量
1
The Pall Acro 50 is a disposable0.2 micron sterile vent filter and contains a Pall hydrophobic PTFE membrane, and is ideal for the sterile venting of small containers and as an in-line gas filter. The large effective filter area provides high flow rates, and filters can be autoclaved several times, ensuring low costs.


Features
PTFE membrane provides high flow rates and resists 'wetting' out by water vapor
Light, compact unit suitable for small vessels and flexible tubing
Can be easily integrity tested by water breakthrough test
Each filter labeled with an individual serial number
High-Quality Standards
Validated with Brevundimonas diminuta (ATCC 19146) in liquid at a challenge level of >107/cm2 filter area
100% integrity tested 
Manufactured in a clean environment under controlled conditions
Materials of construction tested for biological compatibility
Comprehensive validation guide available
Materials of Construction
Membrane
PTFE on a polypropylene support
Housing
Polypropylene
Operating Parameters1
Max operating pressure
4.1 bar at up to 25 °C (77°F)
Max operating temperature
40 °C (104 ºF)
1 In compatible fluids which do not soften, swell or adversely affect the filter or its materials of construction.
Autoclave Sterilization2
Autoclave: 5 x 0.5-hour cycles at 125°C (257°F)
2 The autoclave life was determined by testing under controlled laboratory conditions up to the time indicated. Actual operating conditions may affect the filter capsule's resistance to autoclave sterilization and service. Filter capsules should be qualified for each process. These filter capsules should not be exposed to gamma irradiation.

Warning: This product must not be sterilized in-situ by passing steam through under pressure. Integrity should be verified after each autoclave cycle before use.
Connections
Inlet and Outlet: ¼ in. - ½ in. hose barb
Typical Effective Filtration Area
19.5 cm2
Removal Rating
0.2 micron
Typical Air Flow Rates
>8 standard liters /minute at 0.2 bard (3 psid) differential pressure
Nominal Dimensions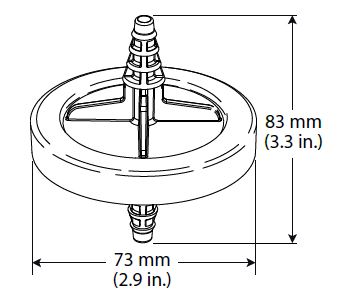 Regulatory/Quality Documentation