Single and Multi-round Pharmaceutical T-style Filter Housings for Liquid Applications
PLT stainless steel sanitary filter housings have been designed in accordance with the Life Sciences industry's demand for high-quality, cost-effective products.
The PLT range is available in both single and multi-round style and the housing's design takes account of sanitary and GMP design requirements necessary for stainless steel products within the industry. They can be supplied in with a variety of different connection configurations and with two different surface finish options. These features combine to ensure that the PLT range of housings is suitable for the widest possible range of applications.
Features and Benefits
Combine sanitary design and cost-effectiveness
Meet stringent requirements in the different biopharmaceutical market segments
Enhanced product cleanability due to crevice-free welding and sanitary design
Suitable for SIP and CIP
Manufactured in 1, 3 and 5-round configuration
Available with different inlet and outlet connections
Includes different options with quick fit 'Stäubli'-type vent connection for easy filter integrity testing
Operator friendly V-clamp (single-round) and V-band closure for multi-round housings
Enhanced documentation package supplied on CD (optional)
Suitable for use with hazardous liquids and gases in accordance with PED 97/23/EC
Safe for use in hazardous environment in accordance with ATEX 94/9/EC Group II Category 2 (Zones 1/21 and 2/22)
Available in two surface options:

Electropolished with internal Ra value < 0.38 μm
Mechanically polished and passivated with internal Ra value < 0.8 μm
Specification
Maximum Operating Pressure
-1 to 10 barg (-14.5 to 150 psig) 
Maximum Operating Temperature
150 °C
Materials of Construction
Contact Surfaces
316L Stainless Steel (1.4404)
Non-wetted contact surfaces:
304 Stainless Steel (1.4301)
Surface Finish
Surface Option 1 (Internal)
Ra ≤ 0.38 μm (15 μin) electropolished (typical) 
Surface Option 1 (External) 
Ra ≤ 0.8 μm (32 μin) electropolished (typical) 
Surface Option 2 (Internal)  
Ra ≤ 0.8 μm (32 μin) passivated 
Surface Option 2 (External) 
Ra ≤ 1.2 μm (48 μin) passivated
Inspection Documentation
The housing is supplied with Housing Certificate (EN 10204 2.2 type) and manual. Enhanced documentation in CD format available as an option 
PLT3 - Nominal Dimensions and Weights
Code

Cartridge Height

Dimension A

Dimension B

Dimension C

Dimension D

Vol (L/US Gals)

Weight (Kg/lb)

1

 254 mm (10 in.)

787 mm (31.0 in.) 

382 mm (15.1 in.) 

310 mm (12.2 in.)

294 mm (11.6 in.) 

8.2/2.2 

19.0/41.8 

2 

 508 mm (20 in.)

1037 mm (40.8 in.) 

632 mm (24.9 in.) 

560 mm (22.0 in.)

294 mm (11.6 in.) 

14.2/3.76 

21.2/46.6

3 

 762 mm (30 in.)

1297 mm (51.1 in.) 

892 mm (35.1 in.)

810 mm (31.9 in.)

294 mm (11.6 in.)

20.0/5.3

23.5/51.7

4 

1016 mm (40 in.)

1537 mm (60.5 in.)

1132 mm (44.5 in.)

1060 mm (41.7 in.) 

294 mm (11.6 in.)

26.0/6.87

25.7/56.5
PLT5 - Nominal Dimensions and Weights
Code

Cartridge Height

Dimension A

Dimension B

Dimension C

Dimension D

Vol (L/US Gals)

Weight (Kg/lb)

1

 254 mm (10 in.)

859 mm (33.8 in.) 

418 mm (16.5 in.)

310 mm (12.2 in.)

381 mm (15.0 in.)

13.7/3.6

26.9/59.0

2 

 508 mm (20 in.)

1110 mm (43.7 in.)

669 mm (26.4 in.)

560 mm (22.0 in.)

381 mm (15.0 in.)

22.7/6.0

29.1/64.1

3 

 762 mm (30 in.)

1358 mm (53.5 in.)

917 mm (36.1 in.)

810 mm (31.9 in.)

381 mm (15.0 in.)

31.8/8.4

30.4/66.8

4 

1016 mm (40 in.)

1607 mm (63.3 in.)

1166 mm (45.9 in.)

1060 mm (41.7 in.) 

381 mm (15.0 in.)

40.9/10.8

33.6/73.9
Typical Water Flow vs Differential Pressure for PLT1, PLT3 and PLT5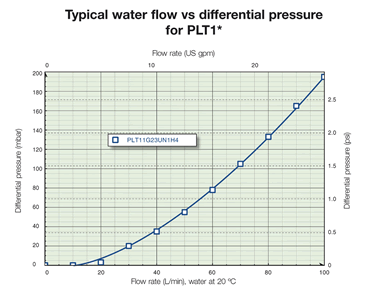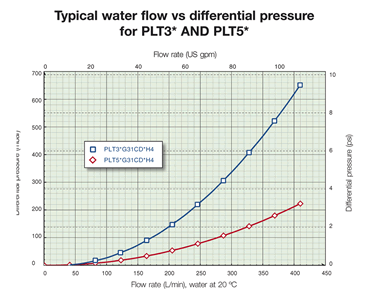 Regulatory/Quality Documentation