Genderless sterile connections - Intuitive, reliable, secure
The Kleenpak Presto sterile connector is the next generation in the Allegro™ range of single-use fluid handling and management devices. This new genderless connection allows for the permanent sterile connection of two fluid streams for a large range of biopharmaceutical applications.


With its intuitive operation, sterile connections can be to be carried out in a simple 3 steps operation, even in an unclassified environment, without compromising the sterility of the fluid paths.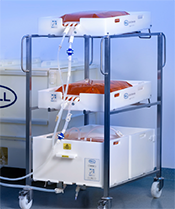 Key design features such as the anti-actuation tabs and tamper resistance protective cap give end users more confidence in operation and security of supply.
The Kleenpak Presto sterile connector brings enhanced levels of quality assurance with 100% inspection at point of manufacture that allows device traceability, as each device has its own serial number. The manufacturing process of Kleenpak Presto sterile connectors brings an enhanced level of quality assurance, with the use of an automatic vision system that ensures the absence of defects in the membrane and membrane welding.
Available in a variety of sizes, 6.35 mm (¼ in.), 9.53 mm (⅜ in.), 12.7 mm (½ in.), 15.8 mm (⅝ in.), 19 mm (¾ in.) hose barb and 12.7 mm (½ in.) sanitary connection – the Kleenpak Presto sterile connector can be used in upstream processing, downstream processing and formulation and filling. Made from Bisphenol-A (BPA) free Polyethersulfone (PES) the Kleenpak Presto sterile connector is compatible with a wide range of process fluids and solvents.
Features and Benefits
 
Features
Benefits
Allows for the sterile connection of 2 fluid paths in an uncontrolled environment
Elimination of the need for laminar air flow hoods and glove boxes to carry out sterile connections
Genderless design
Reduction of part numbers and simplification of single-use systems
Presto seal technology
High pressure operation for up to 90 days
Operating temperature range 2 °C to 60 °C
Storage to -80 °C
Pressure rating from up to 3 barg for 90 days
4 barg for shorter periods
Can be used in a wide variety of applications - including tangential flow filtration (TFF) with pulsated 4 barg range
Operating pH range from 2 – 12
Compatible with Dimethylacetamide (DMA) and Dimethyl sulfoxide (DMSO)
Can be used in a wide range of processes, including antibody drug conjugates
6.35 mm (¼ in.), 9.53 mm (⅜ in.), 12.7mm (½ in.), 15.8 mm (⅝ in.), 19 mm(¾ in.) hose barb and 12.7 mm (½ in.) sanitary connections
Wide range of connection sizes allows handling of different volumes – universal face allows for step up and step down connections
Tamper resistant caps on devices
Enhance end user confidence between point of manufacturer and point of use
Intuitive operation
Error proof operation ensures that end user makes the sterile connection the
correct way 100% of the time
Each size has a different colored cap
Clear visual indication for end user on sizes being used
BPA-free PES used as material of construction
Eliminates any BPA toxicological concerns
PES material compliant to USP 87, 88, 661, 85, 788
In line with regulatory expectations
Each device individually marked with batch number and serial number
Device traceability that is linked to the 100% on-line inspection at point of manufacture
Vision systems on 100% of devices during manufacturing
Vision system that is capable of detecting membrane and weld defects to ensure absence of critical defects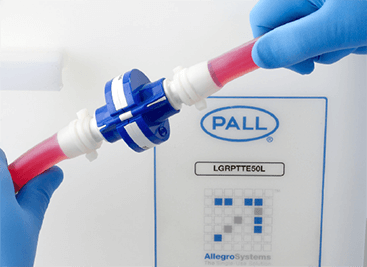 Applications
Media preparation and transfer
Buffer preparation and transfer
Transfer of inoculum to bioreactor
Sampling during fermentation / cell culture
Bioreactor harvest
Sterile fluid transfer between unit operations
Bulk handling of sterile material in non-classified environments
Probe insertion into bioreactors, mixers and 3D biocontainers
Sterile filtration manifolds
Hybrid stainless steel and single-use system connection
Connection of bulk sterile material to filling machine
Sterile waste removal from process streams
Easy-to-Use Operation
Preparation

Remove the protective cap from both connectors by pulling the tab in the direction shown above
1. Connection of the devices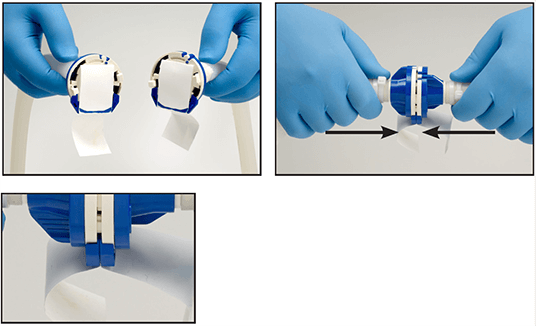 Connect the two devices together ensuring the membranes are in the same direction and the blue tabs lock together – An audible click is heard.
2. Membrane removal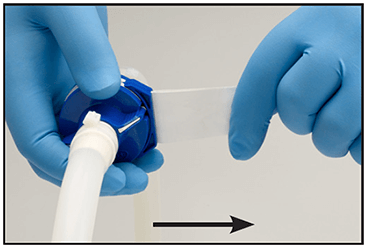 Remove the tabs by pulling both tabs at 90 degree to the connector assembly
3. Actuation

Actuate the assembly by turning each device into each other as shown above.
The connection is confirmed by the audible click and also the alignment of the colors as seen above.
Quality Standards
Manufactured under a quality management system certified to ISO9001
Manufactured in a clean room Class 7 in operation
Supplied with a certificate of test confirming the quality standards and quality control tests performed by Pall
Each connector is individually marked with batch number and serial number
Batch release criteria:

USP 85 - Endotoxin
USP 788 - Particulate test

Device release criteria:

100% inspection through vision system for absence of membrane and weld defects.

The fluid path materials of construction have been tested and meet the regulatory requirements of:

USP 88 - Biological reactivity in vivo for Class VI 121 °C plastics
USP 87 - Biological reactivity in vitro
USP 661 - Physicochemical tests

The fluid path materials of construction do not contain substances derived from animal products (i.e. BSE/TSE risk free)
Validation Tests
Mechanical tests
Leak (closure integrity); burst; creep rupture and pressure hold test; tensile strength
Functional tests

Extreme temperature pressure leak test strength and performance testing
Water flow characteristics
Bacterial challenge ("soiling") test using Brevundimonas diminuta
Autoclave and gamma resistance
Shelf life studies
Extractables testing
Please refer to product validation guide for further details of the validation tests performed.
Materials of Construction
Product Contact Parts
 
Connector body
Polyethersulfone (PES)
O-ring
Platinum cured silicone
 
Product Non-contact Parts
 
Protective cap
Thermoplastic elastomer
Cover and tab
Polybutylene terephthalate (PBT)
 
Extractables Matrix (NVR)
Post Irradiation and Autoclave
 
 
Time
Time 0 (≤ 30 Mins)
24 Hours
7 Days
Test
Order
Solvent
Temperature
Ambient (25 ºC)
40 ºC
40 ºC
1
50% Ethanol
2
0.5 N NaOH
3
0.1 M Phosphoric Acid
4
1% PS-80
5
5 M NaCl
6
WFI or Deionized Water
 
Extractables data to BPOG guidelines available on request. Please contact Pall.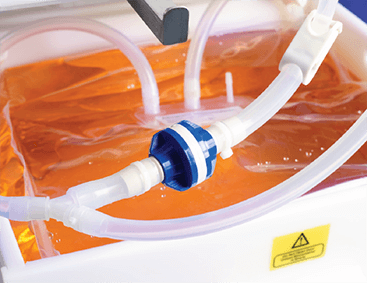 Sterilization Specifications
 
Gamma irradiation
Maximum 50 kGy
Autoclave
One 75 minute cycle at 130 ºC
 
Operating Specifications
 
Up to 3 barg at 2 – 60 ºC
up to 90 days
Up to 4 barg at 2 – 60 ºC
up to 2 days (48 hours)
Storage
down to -80 °C
 
Nominal Dimensions
 
Part Number
PSC1G07
PSC1G10
PSC1G06
PSC1G11
PSC1G08

PSC1G05

Size
6.35 mm
(¼ in.)
Hose barb
9.53 mm
(⅜ in.)
Hose barb
12.7 mm
(½ in.)
Hose barb
15.88 mm
(⅝ in.)
Hose barb
12.7 mm
(½ in.)
Sanitary
19 mm
(¾ in.)
Hose barb
Internal diameter (A)
6 mm
(0.2 in.)
8 mm
(0.3 in.)
14 mm
(0.6 in.)
14 mm
(0.6 in.)
13 mm
(0.5 in.)

14 mm




(0.6 in.)

Length when actuated (B)
97 mm
(3.8 in.)
97 mm
(3.8 in.)
108 mm
(4.3 in.)
120 mm
(4.7 in.)
99 mm
(3.9 in.)

140 mm




(6 in.)

Connector length with cap (C)
58 mm
(2.3 in.)
58 mm
(2.3 in.)
64 mm
(2.5 in.)
70 mm
(2.8 in.)
59 mm
(2.3 in.)
79 mm
(3 in.)
Maximum diameter of connector with cap (D)
70 mm
(2.8 in.)
70 mm
(2.8 in.)
70 mm
(2.8 in.)
70 mm
(2.8 in.)
70 mm
(2.8 in.)
70 mm
(2.8 in.)
Maximum diameter of connected device (E)
49 mm
(1.9 in.)
49 mm
(1.9 in.)
49 mm
(1.9 in.)
49 mm
(1.9 in.)
49 mm
(1.9 in.)

49 mm




(1.9 in.)

Weight
33 g
33 g
34 g
36 g
36 g
41 g
 

Regulatory/Quality Documentation
 
제품 번호
설명
수량
PSC1G07
Kleenpak Presto 멸균 커넥터 및 ¼인치 hose barb connection (주황색 보호용 캡) 50개입 상자
상자당 50개, 대형 겉봉투 내 개별 포장
PSC1G10
Kleenpak Presto 멸균 커넥터 및 ⅜인치 hose barb connection (밝은 파란색 보호용 캡) 50개입 상자
상자당 50개, 대형 겉봉투 내 개별 포장
PSC1G06
Kleenpak Presto 멸균 커넥터 및 ½인치 hose barb connection (흰색 보호용 캡) 50개입 상자
상자당 50개, 대형 겉봉투 내 개별 포장
PSC1G11
Kleenpak Presto 멸균 커넥터 및 ⅝인치 hose barb connection (스피어민트 그린 보호용 캡) 50개입 상자
상자당 50개, 대형 겉봉투 내 개별 포장
PSC1G08
Kleenpak Presto 멸균 커넥터 및 ½인치 mini sanitary clamp connection (검정색 보호용 캡) 50개입 상자
상자당 50개, 대형 겉봉투 내 개별 포장

PSC1G05

Kleenpak Presto 멸균 커넥터 및 ¾인치 hose barb connection (보라색 보호용 캡) 50개입 상자