Pall Kleenpak
liquid capsule
filters with intrinsically hydrophilic positive zeta potential Posidyne membrane are rugged, self-contained sanitary filters designed for small-batch sterile filtration of aqueous pharmaceutical solutions. With a net positive charge in most aqueous solutions from pH 3 to 10, Kleenpak Capsules with Posidyne Membrane Assemblies can effectively remove
 contaminants such as cell debris and endotoxin smaller than the filter rating
.
Features and Benefits
Positive Zeta potential for enhanced efficiency in aqueous solutions
Double-layer sterilizing membranes for high reliability
100% integrity and pressure-tested
High protein recovery from serum and most protein solutions
0.2 µm NF grade for sterilization
0.1 µm NT grade for diminutive bacteria and mycoplasma removal
Low filter extractables
Sanitary vent and drain valves with non-twist hose barbs
Upstream hold-up volumes (< 1 mL)
Repeatedly autoclavable
Manufactured for use in conformance with cGMP
IS0 9000 Certified Quality System
Pharmaceutical P optimized
Certificate of Test provided
Quality and Bio-Safety Biological Tests
Meets USP Biological Reactivity Test, in vivo, for Class VI-121 °C Plastics
Effluent Quality Tests*
Meets Cleanliness per USP Particulates in Injectables
Non-Fiber-Releasing
Non-Pyrogenic per USP Bacterial
Endotoxins (< 0.25 EU/mL)
Meets Total Organic Carbon and Water Conductivity per USP Purified Water; pH per Sterile Purified Water
 * Per lot sample soak or rinse-up flush aliquots.
Autoclave Resistance
Lot samples multi-cycle autoclave challenged
Materials of Construction
 

Membrane

 Nylon 6,6, positively-charged

 Support and Drainage

 Polyester

 Core and Cage

 Autoclavable Version:  Polypropylene
G and S Grades:   Polyester

 End Caps and Shell

 Polyester

 Vent and Drain Valve O-ring

 Ethylene Propylene (EPDM)
Microbial Removal Ratings
NFZ

 0.2 µm, sterilizing-grade1

NTZ

 0.1 µm, sterilizing-grade2
1 Assembly lot samples retain > 107 cfu/cm2 of Brevundimonas diminuta per mod. ASTM F838-83 and FDA guidelines.
2 Also retains > 107 cfu/cm2 Acholeplasma laidlawii mycoplasma.
Nominal Filter Areas
Size Code

KA1

KA2

KA3

KA4

 Effective Filter Area

0.05 m2
(0.53 ft2) 
0.1 m2
(1 ft2) 
0.2 m2
(2.1 ft2)
0.5 m2
(5.3 ft2)
Nominal Dimensions
Size Code

KA1

KA2

KA3

KA4

 

Maximum Diameter of Bowl (including Valves)

94 mm
(3.7 in.)

94 mm
(3.7 in.) 
109 mm
(4.2 in.)
109 mm
(4.2 in.)

 Length (including Sanitary Connection [Code 1])

117 mm
(4.6 in.)
158 mm
(6.2 in.)
174 mm
(6.8 in.)
286 mm
(11.2 in.)

 Length (including Stepped Hose Barb Connection [Code 2])

158 mm
(6.2 in.)
199 mm
(7.8 in.)

- 

- 

 Length (including Hose Barb Connection [Code 6])

 -

 -

210 mm
(8.2 in.)
325 mm
(12.7 in.)
Operating Conditions3
Maximum Pressure and Temperature    

5.2 barg (75 psig) to 40 °C

 Maximum Differential Pressure    

4.1 bard (60 psid) at 40 °C
3 Using compatible liquids. Maximum 3.5 barg (50 psig) in air/gas service.
Typical Liquid Flow Rates4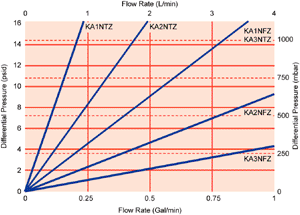 4 Typical initial clean ∆P, water at 20 °C, 1 cP. KA4NFZP ∆P flow is 37 mbard/L per min (2.1 psid/gpm). Pressure drops at other flows are directly proportional to flow. Values shown for 38 mm (1½ in.) sanitary flange connections. Values with other connections are available on request. For assistance, contact your local Pall representative.
Aqueous Extractables (NVR)5

(Non G and S Grades)
KA1

KA2

KA3

KA4

 6 mg

 12 mg

 20 mg

 40 mg
5 Water at 20 – 25 °C after autoclaving.
Steam Autoclaving6 (Non G and S Grades)
 

Cumulative Autoclave Time

16 hours at 125 °C
4 hours at 140 °C
6 Laboratory tests (1-hour cycles) establish multi-cycle.
Warning:

Kleenpak filters must not be steam-sterilized in situ by passing steam through under pressure.
Sterilization
 Gamma-irradiation Maximum Dosage (G Grade)

 35 kGy