For measurement of water content in oil
The Pall WS19 Series portable water in oil sensor is an ideal, low-cost method for measuring dissolved water content in hydraulic, lubricating and insulating oils.
Specifically designed for use in industrial environments, the readings in water in oil detection sensor are shown on an LCD display and can be used as a key component in the predictive maintenance of plant and machinery.
Features
A sensing probe directly immersed in the fluid to monitor dissolved water content and temperature
Water content output in % saturation or PPM
Temperature in °C or °F
'Plug and play' connectivity
Data logging
Multiple oil constants for PPM conversion
Simple to operate and calibrate
Robust housing and sensing probe designs.
Simple use
Specifically designed for industrial environments the WS19 Water in oil detection sensor features a color LCD touch screen for simple on-site adjustment and calibration, and interchangeable sensor options.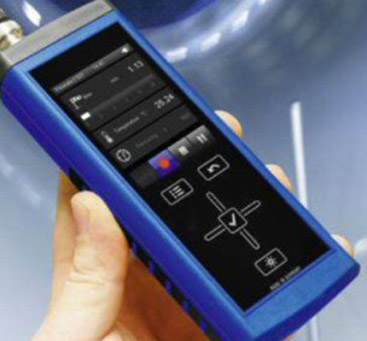 There are numerous applications for the WS19 water in oil detection sensor, including:
Primary Metals
Power Generation
Pulp and Paper
Marine
Industrial In-plant
Automotive
Offshore/Petrochemicals
Dimensions: 62mm W X 170mm L X 34MM D (2.4" X 6.7" X 1.3")
Supply Voltage: 4X 1.5V Alkali-Manganese Battery IEC LR6 AA
Optional: 5V DC via USB cable
Battery Life: 200 Hours
Temperature:
      Sensing Probe Tip: -40°C to 120°C(-40°F to 248°F)
      Grip of Sensing Probe: 0°C to 50°C(32°F to 122°F)
      Hand Held Display: 0°C to 50°C(32°F to 122°F)
Fluid Compatibility: Petroleum based and synthetic fluids.The water sensor is not to be used in water based fluids or aerospace phosphate ester hydraulic fluids.
Probe Cable Length: 2m(6.6ft)
Accuracy Saturation: ±2% 0 to 90% RH and
                                   ±3% 90 to 100%
                                   Traceable to international standards,administered by NIST,PTB,BEV.
Enclosure/Protection: ABS/IP 40
Weight: 0.21 kg(0.45 lb)
CE Compliance: EN61326-1:2006
                           EN61326-1:2006
                           IEC61326-1:2005
                           IEC61326-2-1:2005
TFT Touch Screen Diplay: LCD,54 X 41mm(2.1'' X 1.6''),illuminated
Calibration Services: Available from Pall;Contact your local representative
Diagnostic and Monitoring Equipment
Water Sensor(handheld unit and probe) with case: WS19DS
Water sensor,case and optional calibration kit: WS19DSC
Probe only: WS19S
Calibration kit: WSCALK
Calibration salts only: WSCALS
Connecting cable: WS19CABLE