The Pall 0293 disposable air breather is used to prevent damaging airborne contamination from entering fluid system reservoirs.
Filtration Rating:
3 micrometers in air
Materials of Construction:
Cap and shroud–polyamide
Filtration medium–oleophobic resin-bonded filter fibers
Method of Construction:
Epoxy resin potted
Vacuum Indicator Minimum Operating Pressure Setting:
1.1" Hg differential (37 mb)
Vacuum indicator is not a disposable unit. Remove prior to breather unit disposal.
Temperature range:
-4°F to + 160°F (-20°C to +70°C)
Filtration Medium Collapse Pressure:
15 psid (1 bar) minimum
Breather assembly supplied with blanking plug. Order reusable vacuum indicator separately.
Dimensional Drawing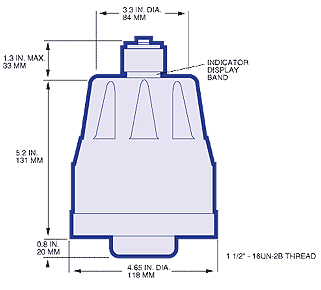 Air Breather Filter Accessories
Air Breather Filter Adapter
The air breather filter adapter HD7500-RFC is compatible with standard reservoir fill port cap mounting flanges with a 2.875" diameter bolt circle. To install, remove original filter breather cap, leaving the strainer in place, and install adapter and air breather filter.

Reservoir Fill Port Assembly
The reservoir fill port assembly HD7500-RFK is used for new installations. The mounting flange and nylon mesh screen attaches to the reservoir top with six (6) self-tapping 10-30 x 1⁄2" screws. Air breather filter adapter HD7500-RFC and air breather filter element HC0293SEE5 are then attached.
Pipe Adapter
The pipe adapter AAS9500-BFH connects a Pall air breather filter to a 1" pipe mounted on the reservoir. Appropriate plumbing is completed by the user.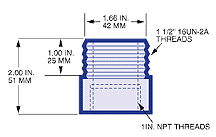 Product

Part Number

Air breather filter element

HC0293SEE5

Vacuum indicator

HC0293D004

Air breather filter adapter

HD7500-RFC

Reservoir fill port assembly

HD7500-RFK

Pipe adapter

AA9500-BFH