The unique Novasip™ capsule filter combines Pall cartridge technology with the latest engineered polymers in an all-plastic filter assembly that can provide all of the benefits of a capsule filter with SIP (steam-in-place) capability. Novasip filters, therefore, provide an alternative to stainless steel housings in many applications. This enables filter users to reduce capital and labor costs and to minimize maintenance costs. Novasip filters consist of a standard design filter cartridge permanently sealed in a clear polyetherimide housing.
Polyetherimide is an advanced plastic selected for its high-strength at elevated temperatures and pressures. This ensures that Novasip filters can be used under a wide range of operating conditions including multiple steam-in-place cycles. Novasip filters are supplied with inlet/outlet connections compatible with sanitary flange fittings. Vents and drains are available with integral valves.
Novasip filters with Emflon® PFR filter membranes are purpose-designed for use in critical air and vent applications.
Comprehensive Validation Documentation
Novasip filters with Emflon PFR filter membrane have been extensively tested to ensure consistent and reliable performance under a range of process conditions.
A full validation guide is available on request.
Installation and operating instructions, including information on steam-sterilization, are available from Pall.
Features and Benefits
Low installation cost — up to 80 % less than a comparable stainless steel system
Integrity testable in situ using the water intrusion test (WIT)
Integral Stäubli-compatible vent valve enables direct in-line connection to electronic test equipment
Repeatedly steam-sterilizable for long service life and low operating costs
Suitable for use in high pressure air systems up to 6.5 barg (94 psig) at temperatures
up to 40 °C
Supplied with a numbered disc which can be fitted easily to the capsule and used to help record the number of times the filter is sterilized
High Quality Standards
Validated in liquids with Brevundimonas diminuta (ATCC 19146) at a challenge level of
107 organisms/cm2 of filter area
100 % integrity tested during manufacturing
Identified by a lot number with a unique serial number for complete traceability of manufacturing history and for user traceability systems
Each filter supplied with a Certificate of Test
Comprehensive validation guide available
Manufactured under a Quality Management System certified to ISO 9000
Meets USP Biological Reactivity Tests in vivo, in accordance with USP Class VI plastics
at 121 °C
Products in this datasheet may be covered by one or more patents including :
US 7,273,550
EP 0 998 343
Materials of Construction
Membrane
Hydrophobic PTFE
Membrane Support and Drainage Layer Assembly
Polypropylene
Endcaps
Polypropylene
Core and Cage
Polypropylene
Housing Bowl
Polyetherimide
Housing Head
Polyetherimide with TiO

2

O-rings
Silicone elastomer
Maximum Accumulated Steam Life1
Temperature
125 °C
135 °C
142 °C
Maximum Steam Exposure2,3
100 cycles
50 cycles
5 cycles
1 Validated using 30 minute cycles.
2 Maximum values determined in laboratory tests. Actual steam life may vary with conditions of use.
3 Excursion conditions only.
Operating Conditions3
Maximum Operating Pressure
6.5 barg (94 psig) at 40 °C
Maximum Differential Pressure
5.2 barg (75 psig) at 40 °C
Note: Maximum differential pressure during steam sterilization at up to 142 °C is 300 mbar (4.3 psid).
3 With fully compatible fluids that do not soften, swell or adversely affect the filter or its materials of construction.
Typical Air Flow Rates4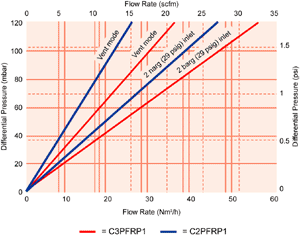 4 Typical initial clean ∆P, air at 20 °C. Contact your local Pall representative for assistance.
Nominal Dimensions
Maximum Diameter (Including Valves)
123 mm (4.84 in.)
Length
157 mm (6.18 in.)
Air, Gas, and Vent Filtration
Regulatory/Quality Documentation

If the above table does not display clearly in your browser, you may download it
here
for easier viewing.