Pall Kleenpak™ filters combine the widest available range of filter media with specially designed self-contained assemblies, to satisfy the very highest standards of filtration security and user convenience.
Emflon® PFR Filter Medium
At the heart of every Kleenpak Emflon PFR Capsule filter is a high-performance pleated cartridge, containing proprietary PTFE membrane. The high-strength PTFE membrane is inherently hydrophobic, chemically inert, and designed specifically for removal of contaminating bacteria and viruses. Emflon PFR filters have a microbial removal rating of 0.2 µm in liquids and a particulate removal rating of 0.003 µm in gases. Emflon PFR filters meet the ever-increasing demand for air filters with greater strength and longer life.
Clean and Robust Design
The Kleenpak filter uses well-proven proprietary Pall techniques for filter construction and heat sealing.
The highest possible security against filter bypass is ensured, even under conditions of pulsed flow
High-strength design allows multiple autoclave cycles for extended use and maximum filter economy
Polypropylene outer shell is designed to provide long-term assurance of pressure and temperature ratings
A total absence of glues, binder resins and surfactants results in very low filter extractables and extremely clean filtrate
High Quality Standards
Every Pall Kleenpak filter is manufactured to a very high standard of quality assurance and cleanliness, and in accordance to a quality system accredited to ISO 9000.
For pharmaceutical use, the P designation in the part number provides full traceability supported by a certificate of test.
Quality and Bio-Safety
Biological Tests
Meets USP Biological Reactivity Test, in vivo for Class VI-121 °C Plastics
Effluent Quality Tests*
Meets Cleanliness per USP Particulates in Injectables
Non-Fiber-Releasing
Non-Pyrogenic per USP Bacterial Endotoxins (< 0.25 EU/mL)
Meets Oxidizables and pH per USP Sterile Purified Water
*Per lot sample soak or rinse-up flush aliquots.
Features and Benefits
Comprehensive validation assures highest removal efficiency and highest safety margins (validation guide available on request)
High flow-rates and low pressure drop allow use of small systems, reducing installation and running costs
Robust construction ensure integrity and reliability
Long autoclave life and long service offer low-cost filtration
Materials of Construction
Membrane
Double-layer hydrophobic PTFE
Support and Drainage Layers
Polypropylene
End Cap, Core and Cage
Polypropylene
Outer Shell
Polypropylene
Venet and Drain Valve O-rings
Ethylene Propylene Rubber
Nominal Dimensions
KA1
KA2
KA3
Maximum Diameter (Including Valves)
94 mm
(3.7 in.)
94 mm
(3.7 in.)
109 mm
(4.2 in.)
Length with 38 mm 
(1½ in.) sanitary connections
117 mm
(4.6 in.)
158 mm
(6.2 in.)
174 mm
(6.8 in.)
Length with hosetail connection
(14 mm (9/16 in.) single–barb)
158 mm
(6.2 in.)

199 mm
(7.8 in.)

210 mm
(8.2 in.)
Maximum Cumulative Steam Autoclave Time
Warning:
Kleenpak filters must not be
in situ
steam sterilized by passing steam through under pressure. The figures are maximum allowable figures determined by testing under controlled laboratory conditions to the total number of hours indicated. Actual operating conditions may affect the filters long-term response to sterilization. Filters should be qualified for each process application.
Operating Conditions1
Maximum Operating Temperature    
40 °C
Maximum Operating Pressure    
3.5 barg (50 psig)
Maximum Differential Pressure    
3.5 bard (50 psid)
1
In compatible fluids which do not soften, swell or adversely affect the filter or materials of construction.
Filter Integrity Test Recommendation2
KA2 and KA3
Water Intrusion Test
2
KA1, KA2 and KA3 are also testable with Forward Flow test after wetting with suitable alcohol/water mixtures. Please contact Pall for test method parameters.
Typical Air Flow Rates3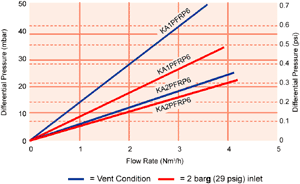 3Typical initial clean ∆P, air at 20 °C. Values shown are for 38 mm (1 1⁄2 in.) sanitary flange connections. Values with other connections are available upon request. For gases other than air or nitrogen, contact your local Pall representative.

Nominal Filter Area
KA1
KA2
KA3
Filter Area
0.04 m2 (0.45 ft2)
0.08 m2 (0.95 ft2)
0.23 m2 (2.48 ft2)
Air, Gas, and Vent Filtration
Regulatory/Quality Documentation