High Strength, Long Life Sterilizing Filters for Air and Gas
Emflon® PFR filters have been developed from the successful Emflon filter range launched in 1981 and widely used as air and gas sterilizing filters in the pharmaceutical and biotechnology industries. The double layer PTFE membrane is inherently hydrophobic, chemically inert and designed specifically for removal of contaminating bacteria and viruses. Emflon PFR filters meet the ever increasing demand for air filters with greater strength, longer life and the ability to withstand the rigours of
in-situ
steaming in the forward or reverse direction.
Superior Performance
Emflon PFR filters provide high assurance of filter integrity and long life, even during continuous use in hot air up to 60°C, in vent applications up to 80°C and during repeated steaming. These PTFE filter cartridges can withstand up to 1 bar (14.5 psi) differential pressure (forward direction) under steam sterilization conditions (125°C). This is combined with high flow rates and excellent dewetting characteristics resulting in very economical filtration through the use of smaller installations and reduced energy costs. In addition, the filters can be tested in-situ by the Forward Flow integrity test or by a Water Intrusion test. Both tests are correlated to liquid bacterial challenge - the 'worst case' challenge.
Scientific Validation
Emflon PFR filters have been extensively and scientifically validated using the most advanced methods and the most sensitive equipment available. They have an absolute removal rating of
0.2 µm in liquids and 0.003µm in gases and have been validated by:
Brevundimonas (Pseudomonas) diminuta liquid challenge at 107/cm2
Brevundimonas (Pseudomonas) diminuta aerosol challenge
PP7 bacteriophage aerosol challenge
Airborne sodium chloride aerosol challenge at 100 L/min flow (0.003 µm rated in gases).
Features and Benefits
Comprehensive validation assures highest removal efficiency and highest safety margins. High flow rates and low pressure drop allow use of small systems, reducing installation and running costs. Robust construction ensures integrity and reliability. Long steaming life and long service offer low cost filtration.

Click here to download an article which describes studies on removal efficiency and resistance to steam sterilization of Emflon PFR filters (PDF, 75 kb)
Materials of Construction
All materials are FDA-listed materials per 21-CFR
Membranes
Double layer PTFE
Support and Drainage Layers
Polypropylene, oxidation resistant
Core, Cage and Endcaps
Polypropylene, oxidation resistant
Adapters
Polymeric, encapsulated in oxygen-resistant polypropylene
O-rings
Silicone elastomer 1
1 Other materials available on request
Removal Ratings
Air/Gases
<0.003 µm, particulate 2
Liquids
0.2 µm, sterilizing 3
2 By NaCl CNC particle analysis. Also retains 100 % of Brevundimonas diminuta bacteria, bacteriophage and virus aerosols.
3 Lot samples of assemblies retain >107 cfu/cm2 of Brevundimonas diminuta in liquid per mod. ASTM F838-83 and FDA guidelines.
Configurations (AB Code 7) 4
Single open ended
Double 226 O-ring adapter
Finned end, bayonet lock
4 AB05 style is Code 2 flat end. Other adapter codes available.
Dimensions (Nominal)
Lengths
127 mm (5 in.), 254 mm (10 in.), 508 mm (20 in.), 762 mm (30 in.), 1016 mm (40 in.)
Diameter
70 mm (2.75 in.)
Filter Area (Nominal)
0.8 m2 (8.6 ft2) per 254 mm (10 in.) element
0.4 m2 (4.1 ft2) per 127 mm (5 in.) element
Operating Conditions5
Temperature
Maximum Differential Pressure
20°C
5.3 bar (77 psid)
80°C
4.1 bar (60 psid)
5 In air/N2 service or other compatible gases.
Typical Continuous Air Service Life6
6 For continuous air flow above 60 °C, Emflon HTPFR filters are recommended. Emflon PFR can be operated at higher temperatures for shorter time periods.
Typical Vent Service Life
Typical Air Flow Rates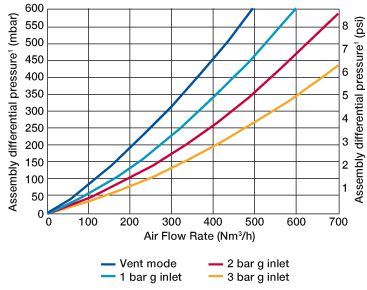 Autoclave/Steaming
Pressure and temperature
Cumulative steaming time8,9
Maximum Forward Steaming Conditions 8,9
1.0 bard (14.5 psid) at 125 °C
0.3 bard (4.4 psid) at 142 °C
20 hrs (1 hr cycles)
165 hrs (1 hr cycles)
Maximum Reverse Steaming Conditions 8,9
0.5 bard (7.3 psid) at 125 °C
20hrs (1 hr cycles)
8 Lab tests to establish multi-cycle resistance. Filters should be qualified in actual use. Contact Pall for recommended procedures.
9 Excursion conditions only
Aqueous Extractables (20°C)
<5 mg per 254 mm (10 in.) element after 1 hour steam at 125 °C
Quality/Bio-Safety
Biological Tests
Meets USP Biological Reactivity, In Vivo, for Class VI-121 °C plastics
Effluent Quality Tests 9
Meets Cleanliness per USP Particulates in Injectables.
Non-Fiber-Releasing per 21CFR
Non-Pyrogenic per USP Bacterial Endotoxins (<0.25 EU/mL)
Meets Oxidizables and pH per USP packaged waters
Steam Resistance
Lot samples multicycle autoclave challenged
9 Per lot sample soak or rinse-up flush aliquots

Integrity Test Values per 254 mm (10in.) Cartridge 10
Forward Flow (air test gas)
60:40 IPA:Water wet (v.v) ≤ 15 mL/min at 1040 mbar (15 psi)
Water Intrusion
≤ 0.33 mL/min at 2500 mbar (36 psi)
10 Contact Pall for multi-element values. AB05PFR value is 7.8 cc/min.
Air, Gas, and Vent Filtration
Regulatory/Quality Documentation
 
Part Number 11
Nominal Length
AB Style Code 12
 AB05PFR2PVH4
 127 mm (5 in.)
 2
 AB1PFR7PVH4
 254 mm (10 in.)
 7
 AB2PFR7PVH4 
 508 mm (20 in.)
 7
 AB3PFR7PVH4
 762 mm (30 in.)
 7
 AB4PFR7PVH4
 1016 mm (40 in.)
 7
 
11 P at end of part number indicates optimized and qualified for Pharmaceutical use including encapsulated stainless steel reinforcing adapter ring for steaming in situ, 100% integrity testing and Certificate of Test provided. V indicates optimized for vent/air/gas service. H4 suffix=Silicone O-rings (standard). See Appendix for available alternate O-ring polymers and codes.
12 AB05 standard with Code 2 flat cap, other lengths Code 7 with finned cap. Both with double 226 O-rings.
Note: For sizing filters or other information, please contact your local Pall distributor.
Specifications and Availability: The information provided is a guide to the part number structure and possible options. Product availability may be subject to change without notice. All specifications are nominal. This literature was reviewed for accuracy at the time of publication. For current information on the products and test methodologies, consult your local Pall distributor.