Emflon PFA filters are a further addition to the successful Emflon filter range. The filters contain a proprietary pleated hydrophobic PTFE membrane and are designed for the removal of micro-organisms and particles from air and gases.
Emflon PFA filters:
Offer exceptionally high-flow rates to ensure low installation and operating costs
Have been validated for bacterial removal in air at an aerosol challenge level of 107 Brevundimonas diminuta ATCC 19146 per 254 mm (10 in.) length cartridge
Can also be steam sterilized repeatedly in situ to provide long service life
Better by Design
The heart of the filter is a PTFE membrane with exceptional flow properties. Equally important is Pall's unrivalled expertise in cartridge construction drawing on many years experience in making PTFE membrane filters. Optimized pleating configuration and membrane support, together with a wide bore cartridge core and adapter, ensure that this high-flow performance can be exploited to the fullest.
Typical Biopharmaceutical Applications
Large-scale fermenter air
Intermediate product vessel venting
Autoclave vacuum break
Biopharmaceutical instrument air
Air and gas service lines
Features and Benefits
High-flow rates and low pressure drop allow use of smaller systems, minimizing installation, filter replacement, and energy costs
Long steaming life offering low-cost filtration
Materials of Construction
 
 Membrane
Hydrophobic PTFE
 Support and Drainage Layers
Polypropylene
 End Cap, Core and Cage
Polypropylene
 Adapter
 Polypropylene with encapsulated stainless steel reinforcing ring
 
Nominal Filter Area
 
 AB1PFA7PV
 0.8 m

2

(8.6 ft

2

)
 
Maximum Differential Pressure1
 
Temperature
Maximum Differential Pressure Forward Direction
 Steam up to 125 °C
 0.3 bar (4.3 psi)
 
1 Validated using 1-hour cycles

Cumulative Steam Life2
 
 Up to 125 °C
100 hours
 Up to 140 °C
 40 hours
 
2 Validated using 1-hour cycles.
The steam life and service life data were determined by testing under controlled laboratory conditions up to the time indicated. Actual operating conditions may affect the filters' long-term resistance to steam sterilization and hot air service. Filters should be qualified for each process application.

Service Life in Air
 
Temperature
Service Life
60 °C  Pressurized Air    
 Typically 12 months
80 °C Vent Service         
 Typically 6 months
 
Typical Air Flow Rates 3
Vent Application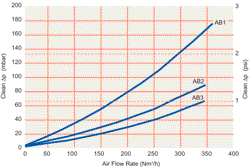 2 barg (30 psig) Inlet Pressure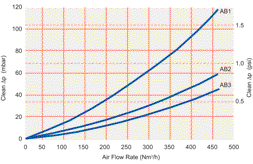 3Typical initial clean medium ∆p per 254 mm (10 in.) element,  air at 20 °C.  For multi-length cartridges, divide pressure drop by number of 254 mm (10 in.) elements. Contact Pall for assistance in sizing.

Air, Gas, and Vent Filtration
Regulatory/Quality Documentation