Gamma Compatible, Sterilizing Grade Air Filtration
For single-use installations, from upstream to final formulation and fill, Emflon II membrane is the go-to gas filter for safeguarding cell cultures and drug product from adventitious bacterial and viral contamination.
Mini Kleenpak capsules with Emflon II membrane delivers scalable, gamma-compatible, sterilizing grade air filtration for use on process gas and vent applications. With a comprehensive validation and quality package, Mini Kleenpak capsules with Emflon II membrane are the perfect air filter technology to implement through clinical development to licensed drug manufacture.
Features and Benefits
Highly-retentive Emflon II membrane for sterility assurance
High flow-rates associated with low differential pressure enable the use of small filters – reduction of installation and operating costs
Gamma-irradiatable, autoclavable or available pre-sterilized for maximum convenience
Integrity testable using the forward flow and bubble point test
Choice of connection options for enhanced flexibility
Biological Tests
Meets USP biological reactivity tests in vivo, in accordance with USP class VI plastics at 121°C
High Quality Standards
Validated in liquids with Brevundimonas diminuta (ATCC 19146) at a challenge level of 107 organisms/cm2 of filter area
100 % integrity tested during manufacturing
Identified by a lot number and unique serial number for complete traceability of manufacturing history and for user traceability systems
Comprehensive batch/release testing supported with a pharmaceutical certificate of test for each filter
Validation guide available
Manufactured under a quality management system certified to ISO 9001:2015
Nominal Dimensions
 
KA1 Capsule
KA2 Capsule
KA3 Capsule
Maximum Diameter (Including Valves)
90.5 mm (3.6 in.)
90.5 mm (3.6 in.)
105.5 mm (4.2 in.)
Length with Hose Barb Connections
158 mm (6.2 in.)
198 mm (7.8 in.)
210 mm (8.3 in.)
Length with Sanitary Connections
117 mm (4.6 in.)
157 mm (6.2 in.)
174 mm (6.8 in.)
Nominal Filtration Area 
380 cm2 (0.41 ft2)
820 cm2 (0.88 ft2)
1700 cm2 (1.83 ft2)
 
Materials of Construction
Membrane hydrophobic: Hydrophobic PVDF
Support and drainage layers: Polypropylene
End cap and core: Polypropylene
Outer shell: Polypropylene
Vent and drain valve O-rings: Ethylene propylene (EPDM)
Operating Conditions1
Maximum temperature: 40 °C
Maximum operating pressure: 3.5 bar (50 psi) at 40 °C
1 In air/nitrogen gas service or other compatible fluids, which do not soften, swell, or adversely affect the filter or its materials of construction.
Sterilization
Gamma irradiation maximum dosage (G option only): Up to 50 kGy
Autoclave sterilization:

Gamma-irradiated filters: 1 one-hour cycle at 125 ºC for the purpose of post-use decontamination
Non gamma-irradiated filters: Up to 3 one-hour cycles at 125 ºC
Warning: Kleenpak filters must not be in situ steam-sterilized by passing steam through under pressure. The figures are maximum allowable figures determined by testing under controlled laboratory conditions to the total number of hours indicated. Actual operating conditions may affect the filters long-term response to sterilization. Filters should be qualified for each process application.
Typical Air Flow Rates2,3
Figure 1
Sanitary flange connections: vent conditions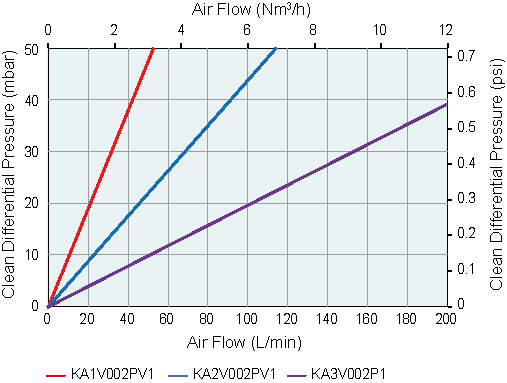 Figure 2
Hosetail connections: vent conditions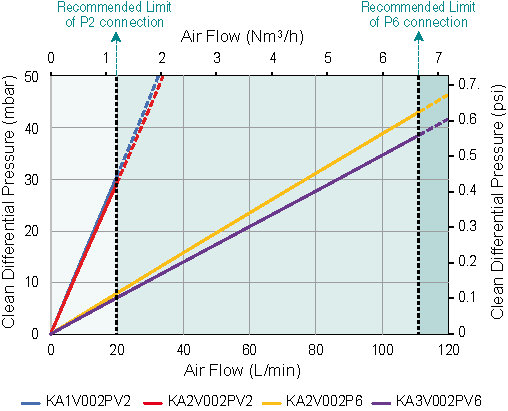 Figure 3
Sanitary flange connections: 2 bar operating pressure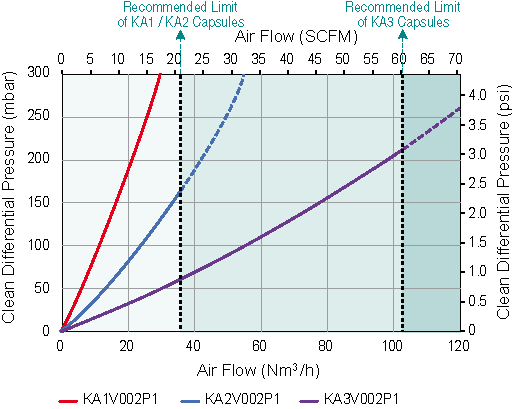 Figure 4
Hosetail connections: 2 bar operating pressure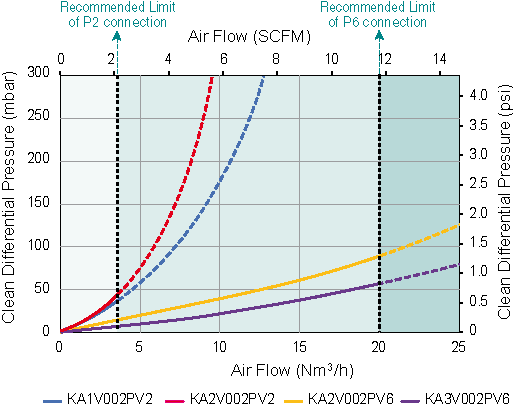 2 For gases other than air or nitrogen, contact your local Pall representative.
3 Recommended flow limits have been based on a maximum velocity of 20 m/s through the capsule. Customer tubing sizes should also be considered.
Air, Gas, and Vent Filtration
Regulatory/Quality Documentation
 
Description
Part Number
KA1V002PV1S
Kleenpak capsule with Emflon II membrane, with 1½ in. sanitary flange, gamma-irradiated
KA1V002PV1G
Kleenpak capsule with Emflon II membrane, with 1½ in. sanitary flange, non irradiated
KA1V002PV2S
Kleenpak capsule with Emflon II membrane, with ¼ – ½ in. hose barb, gamma-irradiated
KA1V002PV2G
Kleenpak capsule with Emflon II membrane, with ¼ – ½ in. hose barb, non irradiated
KA2V002PV1S
Kleenpak capsule with Emflon II membrane, with 1½ in. sanitary flange, gamma-irradiated
KA2V002PV1G
Kleenpak capsule with Emflon II membrane, with 1½ in. sanitary flange, non irradiated
KA2V002PV2S
Kleenpak capsule with Emflon II membrane, with ¼ – ½ in. hose barb, gamma-irradiated
KA2V002PV2G
Kleenpak capsule with Emflon II membrane, with ¼ – ½ in. hose barb, non irradiated
KA2V002PV6S
Kleenpak capsule with Emflon II membrane, with ½ in. hose barb, gamma-irradiated
KA2V002PV6G
Kleenpak capsule with Emflon II membrane, with ½ in. hose barb, non irradiated
KA3V002PV1S
Kleenpak capsule with Emflon II membrane, with 1½ in. sanitary flange, gamma-irradiated
KA3V002PV1G
Kleenpak capsule with Emflon II membrane, with 1½ in. sanitary flange, non irradiated
KA3V002PV6S
Kleenpak capsule with Emflon II membrane, with 1½ in. hose barb, gamma-irradiated
KA3V002PV6G
Kleenpak capsule with Emflon II membrane, with 1½ in. hose barb, non irradiated