Pall HDC® II all-polypropylene liquid filter cartridges incorporate proprietary HDC II tapered pore polypropylene depth media. The single open-ended (SOE) AB filter cartridge style features a high-area pleated modular element construction designed to fit in sanitary filter housings.

HDC IISOEliquidfilter cartridges are well-suited for a broad range of fine particle and prefiltration applications where purity, economy, and reliability are critical. Typical biopharmaceutical applications include biologicals, pharmaceuticals, fermentation feeds, and intermediates, and vaccines.
Features and Benefits
All-polypropylene construction
Resin-free, melt-sealed
Constant density tapered pores
High-capacity for long-life
Fixed pore, non-shedding
Low protein binding
Low extractables
Broad chemical compatibilities
Autoclavable and steamable in situ
Manufactured for use in conformance with cGMP
ISO 9000 Certified Quality System
Pharmaceutical P optimized grades with Certificate of Test provided
FDA-listed materials per 21 CFR
Note: These filters are also available in Kleenpak capsule format.
Quality and Bio-Safety Biological Tests
Meets USP Biological Reactivity Test, in vivo, for Class VI-121 °C Plastics
Effluent Quality Tests*
Meets Cleanliness per USP Particulates in Injectables
Non-Fiber-Releasing Non-Pyrogenic per USP
Bacterial Endotoxins (< 0.25 EU/mL)
Meets Total Organic Carbon and Water Conductivity per USP Purified Water, pH per USP Sterile Purified Water
* Per lot sample soak or rinse-up flush aliquots.
Materials of Construction
 
Medium
 Polypropylene
Support and Drainage Layers
 Polypropylene
Core,Cage and End Caps
 Polypropylene
Adapter (P grade)

 Polypropylene with polyetherimide reinforcing ring

 O-ring
 Silicone1
 
1 Other polymers available on request

Removal Ratings (Liquid) 2
 40 µm, 20 µm, 10 µm, 6 µm, 4.5 µm, 2.5 µm, 1.2 µm, 0.6 µm 3
2 > 99.98% by modified OSU-F2 test. 0.6 to 20 µm in water, and 40 µm in oil.
3 Extrapolated value.
Nominal Dimensions
 
 Lengths
 254 mm (10 in.),  508 mm (20 in.), 762 mm (30 in.), and 1016 mm (40 in.)
 Diameter
 70 mm (2.75 in.)
 
Operating Conditions
 
 Maximum Differential Pressure and Temperature 4 

5.5 bard (80 psid) to 50 °C

4.1 bard (60 psid) to 80 °C

 
4  Using compatible fluids.

Autoclaving and Steaming In Situ

5
 
 Maximum Steam Temperature
 140 °C
 
5 Filters should be qualified in actual use. Contact Pall for recommended procedures.  
Typical Liquid Flow Rates

6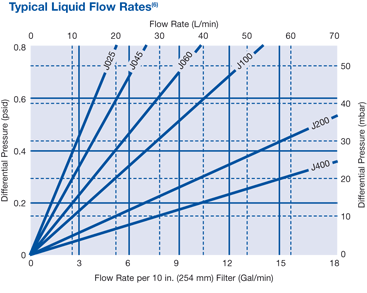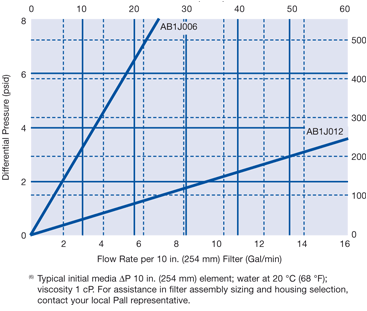 6 Typical initial media ∆P 254mm (10 in.) element; water at 20 °C; viscosity 1 cP. For assistance in filter assembly sizing and housing selection, contact your local Pall representative.
Regulatory/Quality Documentation