To keep pace with advancing technologies, Pall continues its tradition of filtration innovations with the Profile
Star polypropylene particulate filter cartridge:
a state-of-the-art concept for pleated polypropylene filters. The proven and successful Pall technique of varying the fiber diameter produces a pore-size gradient from coarse (upstream) to fine (downstream) while maintaining constant high void-volume throughout the depth of the filter medium. Profile Star filters offer longer life than many competitive pleated filters. Due to their proprietary construction, Profile Star filters deliver the benefits of both traditional pleated polypropylene and depth style filters — the ideal combination. The pressure drop and flow capability are comparable
 to competitive pleated polypropylene filters while also providing an
 excellent removal of soft contaminants, such as gels, because of the depth of the medium. Profile Star filters are available in absolute removal ratings from 1.0 µm to 90 µm and in four nominal cartridge lengths
:
254 mm (10 in.)
508 mm (20 in.)
762 mm (30 in.)
1016 mm (40 in.)
Their all-polypropylene construction makes them compatible with an extremely wide range of fluids. Cartridges are available in a P grade which is optimized for pharmaceutical applications.
Note: These filters are also available in Kleenpak Nova capsule format.
Features and Benefits
Pleated High-area
Extraordinarily high dirt-holding capacity
Long service life
High flow-rates
Excellent gel removal capability
Fixed Pore Structure
No solids unloading under variations in flow or pressure differential
Fibers will not migrate or become dislodged and contaminate process fluid
All-polypropylene Construction
Extremely good chemical compatibility with a wide range of fluids
Very low extractables
No surfactants or binder resins are used during manufacture
Continuous construction without side seam
Media melt-sealed to solid components to ensure maximum integrity
Quality and Bio-Safety
Biological Tests
Meets USP Biological Reactivity, In Vivo, for Class VI-121 °C plastics
Effluent Quality Tests*
Meets Cleanliness per USP Particulates in Injectables
Non-Fiber-Releasing
Non-Pyrogenic per USP Bacterial Endotoxins (< 0.25 EU/mL)
Meets Total Organic Carbon and Water Conductivity per USP Purified Water, pH per USP Sterile Purified Water
* Per lot sample soak or rinse-up flush aliquots.
Materials of Construction
 
 Filter Medium, Cage, Core, End Caps and Adapters
 Polypropylene
 O-rings
 Silicone or Ethylene Propylene (EPDM) as standard
 
Maximum Operating Differential Pressures and Temperatures in Compatible Liquids1
 
Maximum Operating  Temperature
 50 °C
 80 °C
 Maximum Differential Pressure
 5.0 bar (72 psi)
 3.4 bar (49 psi)
 
1 Fluids which do not soften, swell or adversely affect the filter or materials of construction.

Steam-sterilizing Temperature (in situ or Autoclave)
Cartridge Style
 AB Code 3 P grade and AB Code 7
Maximum Recommended Cumulative Steam Life at 125 °C
Typical Flow Rates

Note: Differential pressures are for liquids with a viscosity of 1 cP. Differential pressures for liquids at other viscosities can be conservatively estimated by multiplying the indicated differential pressure by the viscosity in cP. For cartridges of 20 in. (508 mm), 30 in. (762 mm) and 40 in. (1016 mm) nominal length, divide the differential pressure by 2, 3 and 4 respectively. To obtain the total pressure drop of a complete filter assembly the housing pressure drop must be added. Please refer to the relevant housing literature or contact Pall
Regulatory/Quality Documentation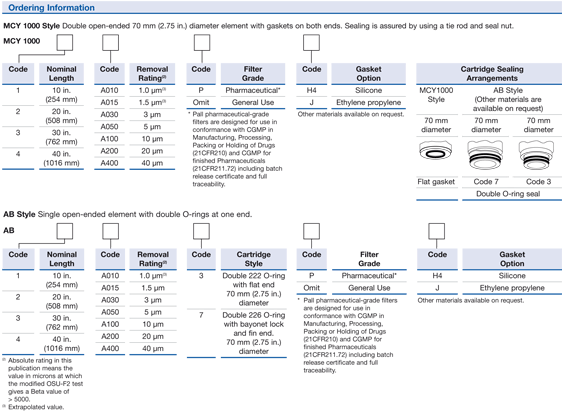 If the above table does not display clearly in your browser, you may download it here for easier viewing.