To Support a Wide Range of Fluid Management Applications with Allegro Single-Use Systems
Biotech or pharmaceutical manufacturing processes are comprised of a series of unit operations. In order to facilitate and optimize these operations Pall has introduced the Allegro single stack and modular multi-stack bioprocessing workstations. Pall's bioprocessing workstations enable easy implementation of a wide range of 
single-use system
designs around each unit operation.
The bioprocessing workstation has been specifically engineered in order to provide maximum flexibility in most single-use operations used in the processing environment.
The system's support trays are made of a high-molecular-weight polyethylene (PE). Due to their outstanding processing capabilities and superior wear resistance, these trays are suited to a wide range of applications – from onsite transport, materials handling, storage, and production within the facility.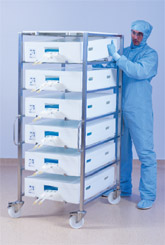 Pall has designed hardware to ensure safe and reliable handling of our Allegro systems as well as provide maximum flexibility to the end user.
The Allegro bioprocessing workstation have been designed to assist in applications where fluid containment, ease of use and flexibility are paramount. Workstations are based around a mobile stainless steel frame, where trays and other accessories can be fitted. The base frame can be expanded depending on operation and volume requirements. The trays are very easy to install and remain fully accessible, therefore operator intervention is kept to a minimum.
 
Features
Benefits
Modular design
Allows for various combinations of tray configurations depending on volumes to be processed. Can be used in different applications such as depth filtration, sterile filtration with in situ integrity testing, fraction collection, media, and buffer preparation
Trays manufactured in HDPE
Trays are very robust and can be cleaned with a wide variety of solutions due to excellent chemical resistance
Operating temperature* range from -40 °C to 60 °C
Can be used for storage at low and high temperature
Stackable
Minimizes storage footprints
Different sizes
Designed to handle 10 L, 20 L, 50 L and 100 L systems
Excellent drainage capability
Allegro 2D systems trays can be put at a slight angle to maximize product recovery
 
* Operating temperature is dependant on the biocontainer operating range. The biocontainers up to 10 L are validated between -80 to 60 ºC The biocontainers 20 L and above are validated between 4 to 60 ºC