Minidisc filter capsules incorporate Ultipor® VF Grade DV20 membrane and are validated for virus removal.
They are also suitable for small-scale membrane qualification studies such as bacteriophage or prion (TSE agent) clearance, as well as membrane flow rate, capacity and protein transmission studies. Every filter is identified by a lot number and a unique serial number for complete traceability of manufacturing history and for user's traceability system and manufactured under a Quality Management System certified to ISO 9001:2008.
Key Features
Incorporates Ultipor VF Grade DV20 virus removal filter membrane
Identical membrane to larger virus cartridges
Fully disposable capsule with Luer-Lok* connections
Individual capsules identified by lot and serial number
100% manufacturing assembly tested
Membrane bacteriophage tested
Pre- and post-installation tested
Low protein-binding
Robust membrane with high viral clearance and resistance to plugging
Benefits
Robust, high viral clearance
Reliable scalability
Easy handling, ready to use
Easy identification of individual capsules with complete traceability of manufacturing history
Assurance of consistently high quality at point of use
Flow decay minimized at high virus spike concentrations and with more complex or concentrated feeds
High Quality Standards
Meets the current USP requirements under Section <85> Bacterial Endotoxins Test
Materials
Filter fluid path components have met the specifications under Section <88> Biological Reactivity Tests
in vivo
listed in the current revision of the United States Pharmacopeia (USP) for Class VI plastics at 121°C.
Virus removal and small-scale membrane qualification studies such as bacteriophage or prion (TSE agent) clearance
Membrane flow rate studies
Capacity studies
Protein transmission studies
Materials of Construction
 
Item
Material
Membrane
Hydrophilic modified polyvinylidene fluoride (PVDF)
Support Disc
Polypropylene (Non-woven)
O-ring
EPDM
Capsule Inlet and Outlet
Polycarbonate
 
Removal Rating
 
Item
Removal
Small viruses
> 3 log TR*†
Large viruses
> 6 log TR **
 
* Claims based on challenge with parovirus model bacteriophage (bacterial virus) PP7
** Claims based on challenge with parovirus model bacteriophage (bacterial virus) PR772
† > 4 LRV for PP7 bacteriophage per Parenteral Drug Association (PDA) TR 41 rating method for small virus-retentive filters. > 4 LRV typically with mammalian parvoviruses
Effective Surface Area
Operating Parameters²
 
Maximum Temperature 
25 °C
Maximum Operating Pressure
3.1 barg (45 psig)
Maximum Differential Pressure
3.1 barg (45 psig)
 
² Using compatible liquids. Maximum air/gas pressure for installation test 3.4 bar g (50 psi)
Typical Flow vs. Differential Pressure
Typical Clean Water Flow at Ambient Conditions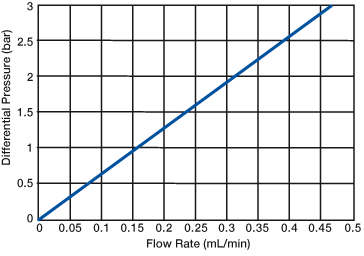 Description
Part Number*
Minidisc Capsules with Ultipor® VF Grade DV20 Membrane
10MCFDV20
 
* Capsules are supplied in boxes of 3


Equipment Required for Laboratory Testing
 
Pressure Vessels
Part Number
Junior-style vessel
BLS7001G23J
Sealkleen vessel
ZLK702G23LHKH4
Novasip™ vessel
C3EP1
 
 
Accessories (Novasip Vessel)
Part Number
Adapter 1 in. TC/Male Stäubli connector plug (3 mm) R ¼ in.
GFX0290
TC clamp + silicone gasket
SLK1TC23H4
 
 
Accessories (Junior, Sealkleen Vessels)
Part Number
Adapter 1 in. TC/Male Stäubli connector plug (3 mm) R ¼ in.
GFX0290
Male Stäubli connector plug (3 mm) R ¼ in.
GFX0235