Process-Scale Virus Filtration
Pegasus Protect virus prefiltration combines with Pegasus Prime virus filtration to deliver the first gamma-sterilized pre-filter & virus filter combination. Together, these simplify process development, validation and operations while saving time and delivering improved process economy.
Process developers can quickly deliver a robust, scalable virus filtration process using a minimum of sample volume, and be confident of successful virus validation. This choice supports clinical manufacturing with a solution that is easy to use and versatile to work alone or with integrated and automated single-use systems.
The flow, filter capacity and virus retention established during small scale filterability and virus validation studies scale to a range of products to support your process and offer the highest degree of manufacturing control, flexibility and security.
Features and Benefits
Robust high LRV, independent of Robust high LRV, independent of Stable performance and
assured process fluid or process parameters
Stable performance and assured patient safety in a broad process design space

Maximize process flexibility to minimize the risk of process deviations

Robust capacity and high flow.
Small filtration footprints and short process times

Economic processes and easy integration into automated processes

Gamma-irradiated, sterile and fully disposable
Ready to use.

No need for additional sterilisation or sanitisation procedures

Full scale-up range
Predictable performance at all scales

Simple process development

Full pre-filter scale-up range with consistent pre-filter to virus filter area
ratios
Control scale-up risks

Faster, simplified scale-up

Water wet integrity testing
Easy to use

As simple to use as sterile filtration
Materials of Construction
Filter Cartridges
Kleenpak Nova Capsules
Filter Membrane
Polyethersulfone
Polyethersulfone
Support and Drainage
Polyester
Polyester
Endcap and adaptor
Polypropylene
Polypropylene
Core and cage
Polypropylene
Polypropylene
O-rings
Silicone elastomer
Silicone elastomer
Capsule hardware
--
Polypropylene
Valve seals
--
Silicone elastomer
Retention Ratings
Pore size
20 nm (nominal)
Virus
> 4 log reduction value for mammalian parvoviruses
Effective Filter Area (EFA) (Nominal)
1 m2 (10.7 ft2) per 10 in.
Operating Parameters*
Maximum Temperature
40 °C
40 °C
Maximum Pressure
-
5.4 bar (76 psi) at 20 °C
3.0 bar (43.5 psi) at 40 °C
Maximum Differential Pressure
4.15 bar (60 psi)
4.15 bar (60 psi)
Recommended Operating Conditions
2.1 to 3.1 bard (30 to 45 psid)
Sterilization
Supplied sterile (irradiated at > 25kGy)
Shelf Life
3 years

* In compatible fluids that do not soften or swell, or adversely affect the filter or its materials of construction. Contact Pall for recommended procedures to qualify filters under actual conditions of use
Aqueous Extractables (NVR)
Refer to Pall Publication USTR3143
Dimensions (Nominal)
Filter Cartridges
Kleenpak Nova Capsules In-Line
Length
--
--
254 mm (10 in.)
508 mm (20 in.)
762 mm (30 in.)
128 mm (5.1 in.)
213 mm (8.4 in.)
335 mm (13.2 in.)
584 mm (23.0 in.)
834 mm (32.8 in.)
Diameter including valves
n/a
154 mm (6.1 in.)
Connection Type
n/a
1 in. sanitary flange intet and outlet
Connection Type
n/a
1 in. sanitary flange inlet and outlet
Forward Flow Integrity Test
Water wet, diffusional flow integrity test
Pegasus Prime virus filters deliver robust, high LRV independent of process parameters, process fluid and validation choices.
The data illustrated in Figure 1 demonstrate the reliable and stable performance across a wide range of process conditions and highlights process flexibility that makes Pegasus Prime virus filtration the ideal first choice virus filter for bioprocesses.
Figure 1
Robust, High Virus Retention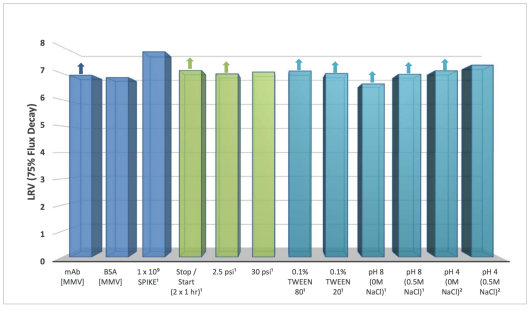 1 Tested using phage PP7
2 Tested using phage ϕX174
Pegasus Prime virus filters combine high LRV with high throughput and high flow in all mAb solutions to deliver an economic virus filtration solution with a small footprint for easy integration into single-use and automated processes.
The performance of three virus filtration options in a variety of fouling fluids is shown in Figure 2. These data illustrate that Pall's comprehensive virus filtration portfolio can minimize the number of virus filters required for any given process. The most common economic solutions are shown below.

Figure 2
Relative Virus Filter Sizing in Fluids With Varying Fouling Characteristics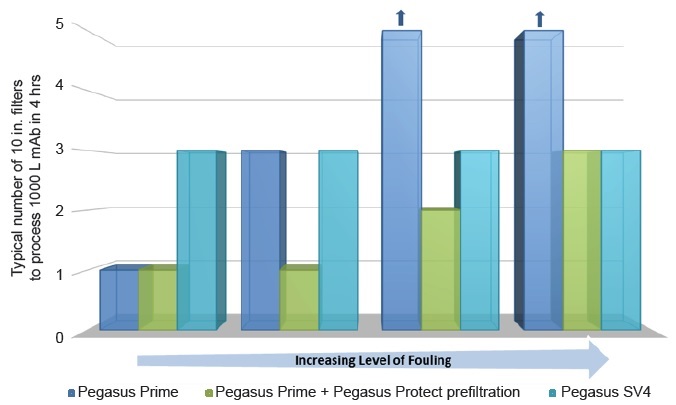 Regulatory/Quality Documentation
Part Number
Description
Filter Area
Pkg
NP1LUPRMP1S
1 in. Kleenpak Nova Capsule (In-Line Style)
0.1 m2
1/pkg
NP5LUPRMP1S
5 in. Kleenpak Nova Capsule (In-Line Style)
0.5 m2
1/pkg
AB1UPRM7PH4S
10 in. Filter Cartridge
1 m2
1/pkg
NP6LUPRMP1S
10 in. Kleenpak Nova Capsule (In-Line Style)
1 m2
1/pkg
NT6UPRMP1S
10 in. Kleenpak Nova Capsule (T-Style)
1 m2
1/pkg
AB2UPRM7PH4S
20 in. Filter Cartridge
2 m2
1/pkg
NP7LUPRMP1S
20 in. Kleenpak Nova Capsule(In-Line Style)
2 m2
1/pkg
NT7UPRMP1S
20 in. Kleenpak Nova Capsule(T-Style)
2 m2
1/pkg
AB3UPRM7PH4S
30 in. Filter Cartridge
3 m2
1/pkg
NP8LUPRMP1S
30 in. Kleenpak Nova Capsule(In-Line Style)
3 m2
1/pkg
NT8UPRMP1S
30 in. Kleenpak Nova Capsule (T-Style)
3 m2
1/pkg