Integrated into Allegro 2D Single-Use
Systems for Mixing Applications
2D single-use
systems have been widely implemented throughout biopharmaceutical processes in many fluid management applications. The main drivers for this are improving operational
 flexibility,
eliminating
cleaning and cleaning validation,
improving
safety, and ultimately
reducing
costs by removing non-value added steps from the process and shortening drug development time. Single-use technologies and systems are now available for more advanced applications, such as tangential flow filtration for
concentration, diafiltration,
and in-process mixing
.
 
Features
Benefits
Biocontainer uses the standard Allegro 2D and 3D biocontainer film
Consistent materials across full range of Allegro biocontainers

Powder addition

system included

on biocontainer

Allows for a powder to be added into the biocontainer for recirculation mixing
Inert low-density polyethylene (LDPE) fluid contact layer
High clarity and flexibility
Compatible with a wide range of chemicals
Very low level of extractables and leachables
No animal-derived ingredients
Appropriate materials for biopharmaceutical applications
Excellent gas barrier properties
Stability of product during storage
 
Mixing is an essential operation for any biopharmaceutical process such as mAbs, therapeutic proteins, or vaccines. Mixing is applied at multiple stages and for many applications within a process. Typical applications include preparation of buffer and media solutions, control of important fluid parameters such as pH and conductivity around chromatography operations, and final formulation prior to filling.
Mixing systems can vary for a wide range of applications and volume sizes. Pall Life Sciences provides a 2-dimensional (2D) pillow-type Allegro biocontainer equipped with a screw cap powder port
for 2D
single-use mixing system for small volume batches (10 – 50 L). The Allegro 2D biocontainer with powder port can be integrated into Pall Allegro single-use systems to provide mixing using a recirculation method, or for use on an appropriate rocking mechanism. A typical system configuration for recirculation mixing, showing various options for connections, is shown below
.
Typical System (with Options for Connections) for a Recirculation Set-Up

1 Recirculation Loop(with fluid inlet line)

Lengths (and connections) defined by application

2 Outlet

Showing typical connectors used

Kleenpak™ sterile connector
Quick connect

Showing options for tubing/hose barb connection

3 Allegro Biocontainer (with powder port)

Available in 20 L or 50 L

4 Optional Sampling Line

Showing options for sampling

Swabable luer (needleless)
Septum
This typical set-up can be adapted as required to provide a customized solution depending on the specific mixing application requirements.
♦BarbLock is a trademark of BarbLock Corporation
Materials of Construction
Inner Layer: LDPE
Oxygen Barrier Layer: EVOH (ethylene-vinyl alcohol copolymer)
Outer Layer: LDPE
Fluid Inlet /Outlet /Sample Ports: Polyethylene
Powder Port: Polyethylene (LDPE)
Operating Parameters
Temperature: 4 °C to 60 °C
Sterilization Method
Gamma Irradiation Maximum Dose: 50 KGy
Film Typical Data
 
Thickness
 
0.325 mm
Haze
 
5%
Water Vapor Transmission Rate
ASTM F-1249
0.32 g / (m².day) at 23 °C
Oxygen Transmission Rate
ASTM D-3985
<0.05 cm³ /  (m².day.bar) at 23 °C, 0% RH
Carbon Dioxide Transmission Rate
Mocon Permatran C-IV
<0.2 cm³ / (m².day.bar) at 23 °C, 0% RH
 
Hardware Specifications
 
Component
Length
Width
Height
Weight
Trolley Base Section
1092 mm
(43.0 in.)
821 mm
(32.3 in.)
628 mm
(214.7 in.)
30 Kg
Trolley Stacking Section
1092 mm
(43.0 in.)
821 mm
(32.3 in.)
550 mm
(21.6 in.)
13 Kg
10 and 20 L Tray
800 mm
(31.5 in.)
530 mm
(20.1 in.)
110 mm
(4.3 in.)
5.7 Kg
50 L Tray
1052 mm
(41.4 in.)
812 mm
(31.2 in.)
110 mm
(4.3 in.)
10.4 Kg
Adapter for 200 and 500 L Totes
826 mm
(32.5 in.)
541 mm
(21.3 in.)
183 mm
(7.2 in.)
3.6 Kg
 
Pump Flow Rate
Typical Pump Fow Rate During Recirculation Mixing: 13 L/min
Note: Pall can provide specifications of specific pumps to meet the above flow requirement
Allegro Biocontainer Nominal Dimensions
 
Biocontainer Volume
Max Width
Max Length (Without Ports)3
Inlet/ Outlet Ports
Sampling Port
Powder Addition Port
20 L
485 mm
(19.5 in.)
738 mm
(29.7 in.)
12. 7 mm
(0.5 in.)
6.3 mm
(0.25 in.)
38mm
(1.5 in.)
50 L
678 mm
(27.2 in.)
909 mm
(36.5 in.)
12.7 mm
(0.5 in.)
6.3 mm
(0.25 in.)
38mm
(1.5 in.)
 
Schematic Structure of Allegro Films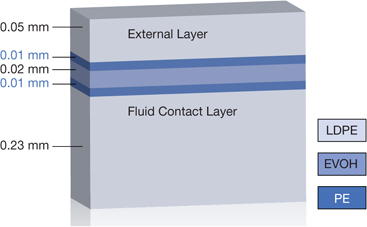 The powder port biocontainer has the same state-of-the-art low extractable/high transparency film structure as the standard Allegro biocontainers. The only additional material compared to the standard biocontainer range is the powder port (LDPE) to allow the addition of powders or fluids or access for sensors during operations.
Pall's application group has conducted a number of performance tests for mixing using the Allegro 2D powder port biocontainer configured for recirculation. The full details of the application work can be found in the Pall Application note USD 2747: Allegro™ 2D Powder Port Biocontainer – Recirculation Mixing.
Mixing Performance
 
 
Mixing Achieved in 1 hour?
Solution
20 L
50 L
1 M NaCl
Yes
Yes
0.75 mM NaOH
Yes
Yes
Phosphate buffered saline (Dulbecco's formulation)
Yes
Yes
Tris buffer
Yes
Yes
Sodium citrate buffer
Yes
No
1 M Ammonium sulfate
No
No
13.4 g/L DMEM (Dulbecco's modified eagle's medium)
Yes
Yes
47.6 g/L Terrific broth
Yes
Yes
30 g/L Tryptic soy broth
Yes
No
 
Quality Standards
The Allegro trolleys, trays and biocontainers are manufactured under a Quality Management System certified to ISO 9001 and are suitable for use according to GMP
The Allegro biocontainers are 100% leak tested
Allegro biocontainers are manufactured in a controlled environment (Class 10,000, grade C)
The materials of construction of the Allegro biocontainers meet:

USP 88 Biological reactivity in vivo for Class VI Plastics - 50 °C
USP 87 (cytotoxicity)
ISO 10993 (biological compatibility)
USP 661 Physicochemical tests for plastics
European Pharmacopoeia (Section 3.1.5)
Japanese Pharmacopoeia (Section 61 Part 1)
European directive 85/572/EEC for food contact plastic materials
An extensive validation program has been conducted to include testing for:
Oxygen permeability
Carbon dioxide permeability
Water vapor transmission rate
Gamma stability and shelf life
Sterilization according to AAMI/ANSI/ISO 1137
Endotoxin and particulate testing
Extractables
Regulatory/Quality Documentation
The Allegro 2D biocontainers with powder port are supplied as part of an integrated and validated Allegro single-use system. These systems include the powder port biocontainer integrated with other components (e.g. tubing, fittings, standard biocontainers, Kleenpak™ sterile connectors and disconnectors and filters) to comprise a fully operational system. Please talk to your Pall representative regarding your requirements so we can provide a suitable system design for your application.