Pall PreFlow filters have been expressly designed to bring a significant improvement to prefiltration technology. The filter media utilized is based on our expertise in manufacturing rugged resin-bonded glass fiber composites. These sanitary-style filter cartridges are manufactured with pleated high-area construction for long service life. PreFlow filters are designed to reduce costs and are especially suited for biological prefiltration applications, including serum, vaccines, tissue culture media, and protein solutions.
Features and Benefits
Unparalleled protection of final membrane filtersFixed pore construction
No unloading or media migration
High-capacity for economy
High-strength design
A choice of particulate removal efficiencies
Autoclavable and steamable
Manufactured for use in conformance with cGMP
ISO 9000 Certified Quality System

Note: These filters are also available in Kleenpak Nova capsule format.
Quality and Bio-Safety
Biological Tests
Meets USP Biological Reactivity Test, in vivo, for Class VI-121° C Plastics
Effluent Quality Tests*
Non-Pyrogenic per USP Bacterial Endotoxins (< 0.25 EU/mL)
Meets Total Organic Carbon and Water Conductivity per USP Purified Water; pH per Sterile Purified Water


* Per lot soak or rinse-up flush aliquots.
Materials of Construction
 Medium
 Resin-bonded glass fiber
 Support and Drainage
 Polyester (nonwoven)
 Core, Cage and End Caps
 Polypropylene
 Adapters
 Polypropylene with encapsulated reinforcing ring
 O-ring
 Silicone elastomer
Removal Ratings (Liquid)
Grade UUA    
0.2 µm (nominal)
Grade UB    
0.45 µm (nominal)
Nominal Filter Area per 254 mm (10 in.) Element
Grade UUA 
0.57 m

2

(6.2 ft

2

)
 Grade UB    
0.68 m

2

(7.3 ft

2

)
Nominal Dimensions
 Lengths
254 mm (10 in.), 508 mm (20 in.), 762 mm (30 in.), 1016 mm (40 in.)
 Diameter
 70 mm (2.75 in.)
Extractables
Grade UUA     
 Typically < 100 mg per 254 mm (10 in.) element
 Grade UB
 Typically < 150 mg per 254 mm (10 in.) element
Typical Flow Rates1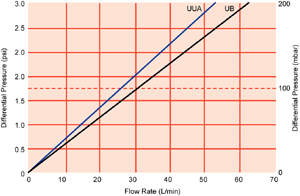 1 Typical initial clean media ∆P 254 mm (10 in.) element; water at 20°C; viscosity 1 cP. For assistance in filter assembly, sizing and housing selection, contact your local Pall representative.
Operating Conditions
 Maximum Operating Pressure and Temperature2
 5.0 bard (72 psid) to 25 °C
2 Using compatible fluids. Compatible fluids are fluids which do not soften, swell, attack or adversely affect the filter or materials of construction
Steam and Autoclaving Sterilization3
3 x 1-hour @ 125 °C
3 Laboratory tests establish resistance. Filters should be qualified in actual use. Contact Pall for recommended procedures.
Regulatory/Quality Documentation