Simple Tools for Scale-Up Confirmation
Pegasus Protect virus prefiltration combines with Pegasus Prime virus filtration to deliver the first gamma-sterilized pre-filter & virus filter combination. Together, these simplify process development, validation and operations while saving time and delivering improved process economy.
Process developers can quickly deliver a robust, scalable virus filtration process using a minimum of sample volume, and be confident of successful virus validation. This choice supports clinical manufacturing with a solution that is easy to use and versatile to work alone or with integrated and automated single-use systems.
The Mini Kleenpak capsules containing Pegasus Prime virus media are optimized as a filterability tool suitable for the confirmation of performance during pre-clinical process development.
Features and Benefits
 
Part of a full scale-up range with identical membrane at all scales*
Reliable scalability

Meaningful process prediction to minimize oversizing of large-scale virus filtration

Gamma-irradiated
Ready to use

No need for additional sterilization or sanitization procedures

Triclamp connectivity
Easy to use

Easy connection to pre-filtration capsules

Small fill volume
Economic process confirmation
 
* Mini Kleenpak Capsule Filterability Tools are for filter-sizing studies and evaluation during process development only. They are not qualified for virus removal. Pall Corporation provides filters for use during drug manufacture or for animal, human therapeutic or diagnostic needs. Please contact Pall for details of filters where needed as Mini Kleenpak Capsule Filterability Tools are not intended for these purposes
Materials of Construction
Filter Membrane: Polyethersulfone
Support and Drainage: Polyester
Capsule Shell, Core and Endcaps: Polypropylene

Retention Ratings**
Pore size : 20 nm nominal
Virus: > 4 log reduction value with mammalian parvoviruses

Effective Filter Area (EFA) (Nominal)
204 cm2 (31.6 in2)

Operating Parameters**
Maximum Temperature: 38 °C
Maximum Pressure: 3.1 bar (45 psi)***
Maximum Differential Pressure: 3.1 bar (45 psi)***
** In compatible fluids which do not soften, swell or adversely affect the filter or its materials of construction
*** up to 12 hours at 25 °C; up to 6 hours at 38 °C

Sterilization
Gamma >25 kGy

Liquid Flow v Differential Pressure (Typical)
123 mL/min at 2.1 bard (30 psid), water at 20 °C

Dimensions (Nominal)
Maximum diameter including valves: 53 mm (2.1 in.)
Length: 73 mm (2.9 in.)

Connection Type
13 mm (½ in.) sanitary flange inlet and outlet
As shown in Figure 1, the filter sizing and process times confirmed during these studies then scale to a range of products available to support your process during clinical manufacture. Where required, these can then be integrated into single-use and automated solutions to offer the highest degree of control, flexibility and security.
Figure 1
Robust scaling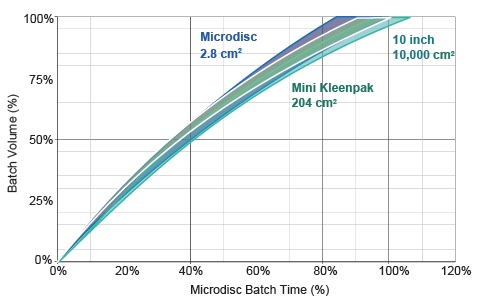 Polyclonal IgG at 50% flux decay; n≥9 from 3 different lots
Regulatory/Quality Documentation
 
Part Number
Description
Pkg
KA02PRM8FT
Pall Mini Kleenpak Filterability Tool with Pegasus Prime Virus Removal Filter Membrane. Supplied gamma irradiated.
3/pkg