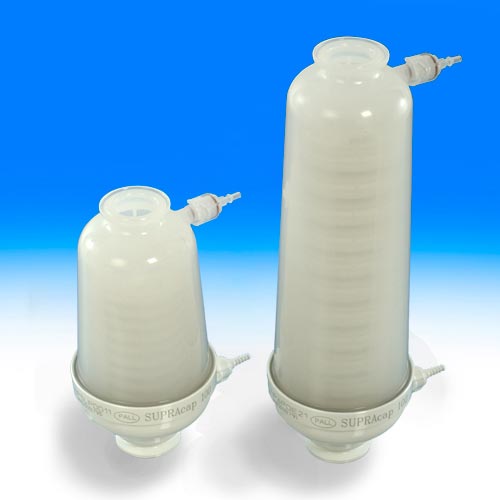 Need Help?

More Information

Description
Providing the Benefits of Seitz® Filter Media in the Most Versatile Capsule Format Available
Scalability is critical to safe and reliable process development, and the Supracap 100 capsule integrates seamlessly into any development process with its versatile configurations, sizes and available filter media.
With the Supracap 100 capsule, scalability from just a few liters to full process depth filter modules can be easily achieved. The fully disposable design eliminates any cleaning or handling concerns usually associated with housings, especially where biological and hazardous products are to be filtered. Furthermore the Supracap 100 capsule is designed to provide cost effectiveness, flexibility and ease of use, while minimizing the exposure risk for operators.
Supracap 100 capsules can be manifolded together as well with any other Kleenpak™ Nova Capsule Filter in the Pall portfolio.

Supracap 100 capsules are especially suited to process development and pilot scale applications. They can be autoclaved and used for various critical applications depending upon the filter media selected. These applications may include cell harvest clarification and protection of sterilizing membranes.
Designed to Provide Choice and Flexibility
Supracap 100 capsules are available with either in-line or T-style configuration. The T-style design is ideally suited for manifolding multiple capsules in series or in parallel configuration. Supracap 100 capsules are available in 127mm (5 in.), 254 mm (10 in), 508 mm (20 in.)  and 762 mm (30 in.) lengths and the extensive range of the Seitz depth filter sheet portfolio is available. This includes*:

All P-grade filter media with endotoxin levels below detection limit
All HP-grade filter media for excellent cell clarification applications and comprised of 2 distinct layers of P-grade filter media
All Bio-grade filter media for very low protein adsorption applications

* Others available upon request.

Supracap 100 filter capsules are available with a variety of inlet and outlet connections, including sanitary flange and hose barb.
Supracap 100 Capsules Meets Industry Requirements
Supracap 100 capsules have been designed to meet industry requirements including autoclaving and low extractables. They offer high flow rates and throughputs and are designed to have minimal hold-up volumes. The translucent shell makes venting and draining easier as liquid levels are visible.