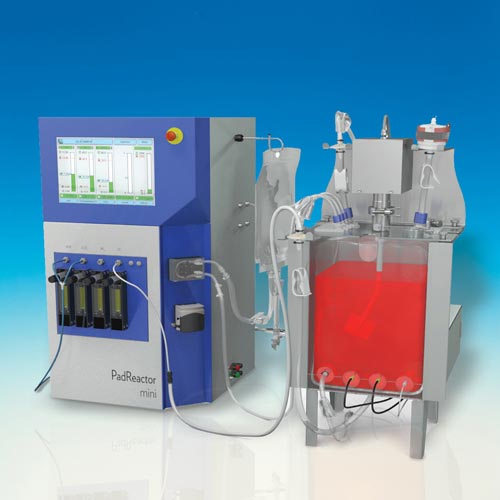 Need Help?

More Information

Description
Small-scale, single-use, stirred bioreactor
Highlights and Benefits
Bench top unit with a maximum 13 L working volume, enabling to quickly develop processes at lower costs while keeping current lab infrastructure
Flexible system offering several configurations to best meet the end user needs: single-use and/or classical probes, dynamic or static sparger, process control system or open architecture
Superior mixing capabilities with highly reduced shear stress specially designed for suspension of microcarriers at high densities
Overview
The PadReactor Mini bioreactor is a scaled down version of the PadReactor bioreactor, making it ideal for feasibility studies, research, process development and small volume production of proteins, cells and viruses. Its innovative cube-shaped biocontainer design incorporates a highly efficient mixing paddle and a strong sparging device for a superior mixing capabilities as well as better gas transfer. These features make the PadReactor Mini system particularly adapted for the cultivation of suspension cells and adherent cells microcarriers.
The PadReactor Mini platform consists of a single-use biocontainer fitted in a stainless steel holder and connected to the process controller. The system is designed to make the biocontainer installation fast and straightforward. On top of the biocontainer holder, the mechanical mixing head driven by a motor mounted on the system can be easily coupled to the paddle. A top cover secures the placement of the biocontainer assemblies as well as the pH and DO probes. A transparent front cover enables the user to easily observe the process during the culture and gives access to the sampling port, temperature sensor as well as single-use pH and DO probes.
The PadReactor Mini biocontainer is designed to be ready-touse. The platform integrates a process control system, including pumps and gas modules. The controller, compliant with GAMP 4 guidelines, ensures a reliable, accurate and fully documented control of critical cell culture parameters such as pH, DO, and temperature. In case the end user would still prefer to use the PadReactor system with its own process controller, the PadReactor system can be supplied in an open architecture configuration.
Contact your Pall Life Sciences representative to discuss how the PadReactor Mini bioreactor can help you to quickly develop and optimize your cell culture process.