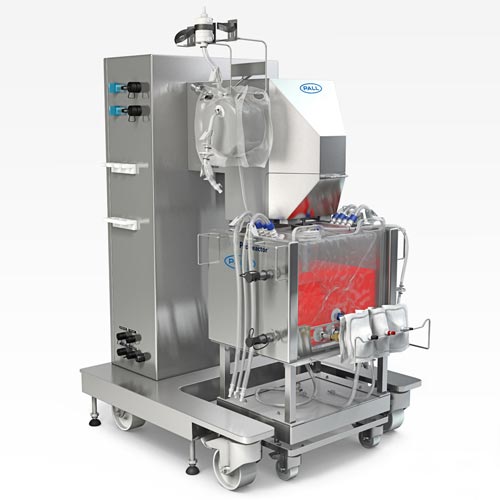 Need Help?

More Information

Description
Single-Use, Stirred Bioreactor
The PadReactor system is a single-use bioreactor specifically designed to fulfill the needs of cell culturists. It is perfectly suited to laboratory environments, process development centers, clinical material supply and flexible cGMP manufacturing. The PadReactor system offers a platform, which gives the end user the opportunity to choose a preferred controller or use Pall recommended controller (ez-Control from Applikon).
Its innovative cube-shaped biocontainer design integrates a highly efficient internal mixing paddle coupled with a dynamic sparger. The system is non-invasive as the paddle and the sparger are enclosed in a medical grade ultra low-density polyethylene resin (ULDPE) sleeve, made from the same contact material as the bag itself. The paddle is coupled on top of the vessel with the mechanical mixing head.
The superior mixing capabilities and the innovative sparging device enable the PadReactor bioreactor to achieve greater productivity compared to cylindrical bioreactors.
The PadReactor system utilizes disposable mixing biocontainers made from TK8 bioprocess film. The product-contacting layer of TK8 film is blow-extruded in-house by Pall Life Sciences under cleanroom conditions using medical-grade ULDPE. It is then laminated to create a gas barrier film of exceptional cleanliness, strength, and clarity that is animal derived component free (ADCF) and complies fully with USP Class VI requirements.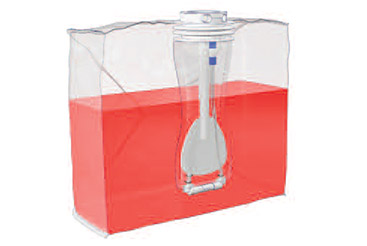 Mixing is achieved when the integrated paddle/sparger inside the biocontainers rotates.
The PadReactor single-use bioreactor consists of the following:
Drive Unit
– The flexible drive unit allows the system to cultivate cells in disposable biocontainers. One drive unit is adapted for various disposable mixing biocontainer sizes. Each system comes with the appropriate mixing stick for your container.
Mobile Retaining Tank
– The purpose of the retaining tank is to support the mixing biocontainer and provide mobility before and after operation. Various tank sizes and options are available.
Bioreactor Vessel
– The reactor vessel uses an innovative biocontainer design that allows a non-invasive connection to the mixer. Mixing is achieved when the integrated paddle/sparger inside the biocontainer rotates within the biocontainer.
Controller (optional)
– ez-Control from Applikon configured to work with PadReactor system.
Highlights and Benefits
Cube-shaped design incorporating a mixing paddle coupled with a dynamic sparger device:

Low shear stress bioreactor as the superior mixing capabilities enables to mix at very low speed
Superior oxygenation and high kLa maintained due to a fully integrated sparging device distributing better the bubbles

Proven to be effective for cultivation of suspended and adherent cells on micro beads
Linearly scalable from 10 L to 1200 L
User friendly single-use bioreactor designed to be used in cGMP environments

Quick biocontainer installation and fast set-up enabling start up time to be decreased by 2 to 4 hours per batch
Limited footprint with an easy access to every part of the bioreactor
Easy observation of the cells during the cultivation and harvest throught a fully transparent front cover
No need for CIP/SIP, avoiding cross contamination risks