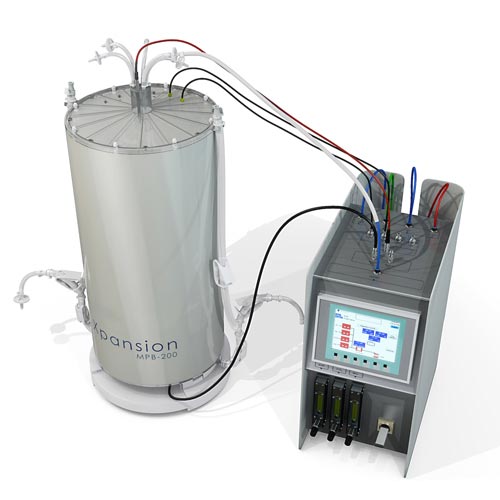 Xpansion® Multiplate Bioreactor System
Description
Multiplate bioreactor for cell-based product manufacturing
Features and Benefits
USP Class VI certified materials
Designed for adherent cell culture applications
Treatment for cells adherence
Single-use closed bioreactor, from vessel to sensors, reduces risk of contamination
2-D multiplate design allows easy adaptation from traditional multitray systems
Integrated,disposable pH DO probes
Real-time control and monitoring ensures reproducibility and traceability
Reduced operations results in process simplification, flexibility, and assurance
The Xpansion multiplate bioreactor is part of the Pall Life Sciences' single-use bioreactor family, designed for shear-sensitive adherent cell applications, such as cultivation of stem cells.
The Xpansion multiplate bioreactor was developed for safe, large-scale production of traditional 2-D cell cultures.The multiplate structure is comprised of a large cell growth surface area (up to 122,400 cm2), while the compact design enables the elimination of the gas phase between the plates. This gas phase is replaced by an automatically controlled aeration system which provides advanced gas diffusion. Control is automatic via disposable pH and dissolved oxygen (DO) sensors. Temperature monitoring and agitation control are also included. Xpansion bioreactors offer the capability of monitoring cell morphology and density through the use of an optional digital holographic microscope.
Xpansion System Components
The Xpansion system includes a single-use bioreactor, docking station and a controller.
Single-Use Bioreactor with Stacked Multiplate Design
Comprised of stacked hydrophilized polystyrene radial plates, the Xpansion bioreactor is designed to promote cell growth on the top of each plate; each plate has a hole in the center. The stacking of these plates forms the central column which allows circulation of the medium in the bioreactor and gas exchange.
The plates are covered by an outer tube, a head plate on the top and a base plate on the bottom. On the head plate, there are:
Six sensor connectors: pH, DO, and four optional sensors
Three viewing windows for use with optional holographic microscope
Two vent filters
Two gas filters (in and out) for aeration system
One thermowell port
One sampling port
In the bottom side of the bioreactor, there are:
Two fluid operation ports (e.g., inoculation, harvest, etc.)
One magnetic impeller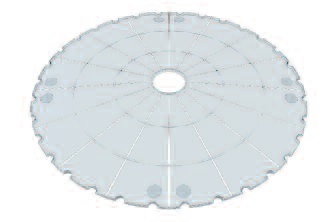 An Xpansion Plate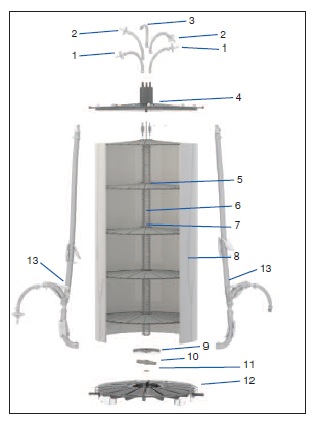 The Xpansion Multiplate Bioreactor
Materials
 
1
Gas lines
(in & out)
C-Flex* tubing and silicone 3/16 in. ID, 0.2 μm hydrophobic filters (PTFE, polyester, polypropylene)
2
Vent.1
C-Flex 3/16 in. ID, 2 0.2 μm hydrophobic filters (PTFE,polyester, polypropylene)
3
Sampling port
C-Flex 3/16 in. ID with needleless connector for sampling with luer syringe + oneway valve
4
Top part
Clear polystyrene
5
Cell surface plates
Cell culture plasma-treated clear polystyrene
6
Aeration support
Polypropylene + polycarbonate
7
Aeration tubing
Silicone 0.58 in. ID x 0.77 in. OD
8
Outer tube
Polyvinyl chloride
9
Stirrer cover
Clear polystyrene
10
Impeller
Ultra-high-molecular-weight polyethylene
11
Bearing
Polyether ether ketone
12
Bottom part
Clear polystyrene
13
Liquid in/out tubing
C-Flex Clear 374 Tubing 3/8 in. ID, CPC MPC male connector, 0.2 μm hydrophobic filters
Sealing material
Resin
 
Docking Station
The bioreactor docks to a station that includes a magnetic drive stirring unit powering the magnetic impeller.
Control of agitation speed is integrated in the controller. The setpoint is defined via the screen on the front side of the controller.
Controller
The controller has measurement/control hardware and a gassing system with a digital control.
Features of the Xpansion controller include:
Graphic user interface with color display and touch screen operation with Administrator and Operator security levels
Integrated transmitters for temperature, disposable DO and pH sensors
Integrated control loops for DO and pH
Agitation control (speed range from 5 to 250 rpm)
Temperature monitoring
DO and pH sensor patches arrive precalibrated; data are transferred via a USB key to the controller
In-process DO and pH can be recalibrated
Trend display for up to four process values (pH, DO, T, gas flow rate)
Controller Gas Module
The controller is connected to the user's gas supply line. Its "gas outlet" is connected to the "gas in" filter of the bioreactor. Gas composition to be injected in the bioreactor is regulated by controller solenoid gas valves. The flow rate of the mixed gas is adjusted by a massflow controller (0-200 mL/min). The controller gas module contains:
One gas diffuser outlet
Four solenoid valves of Air, N2, O2, and CO2
One Mass Flow Controller for mixed gas flow control
Data Management
The Xpansion system has one ethernet port for data communication/ acquisition. It can be linked to egraph (optional software and computer provided by Pall Life Sciences). egraph is installed on a host PC and provides data acquisition for all process values.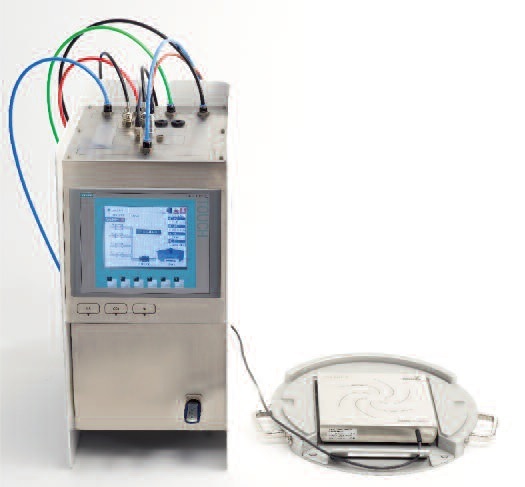 Xpansion Controller and Docking Station
Controller
 
Height
50 cm (19.7 in.)
Depth
40 cm (15.7 in.)
Width
25 cm (9.8 in.)
Weight
15 kg (33 lbs.)
Power supply
100 – 240 VAC, 50 – 60 Hz
Interface
Ethernet
USB host
Stirrer speed
5 – 250 rpm
Integrated measurement module
Disposable DO sensor
Disposable pH sensor
Temperature
One point recalibration function
Disposable DO sensor
Disposable pH sensor
Gas options
O2
N2
CO2
Air
Temperature monitoring
0 – 50 ºC (32 – 122 ºF)
 
Gas Requirements
 
Gases
Application
Specification
Air
pH control
Compressed air – medical grade
Outlet pressure between 1 and 2 bars (14.5 – 30 PSI) 6 mm Festo connectors
CO2
pH control
Pure CO2
Outlet pressure equivalent to air pressure 6 mm Festo connectors
Oxygen
DO control
Medical grade oxygen
Outlet pressure equivalent to air pressure 6 mm Festo connectors
Nitrogen
(optional)
DO control
Medical grade nitrogen
Outlet pressure equivalent to air pressure 6 mm Festo connectors
 
Specifications

Technical Specifications

 
Bioreactors
Xpansion
MPB 10
Xpansion
MPB 50
Xpansion
MPB 100
Xpansion
MPB 200
Number of plates
10
50
100
200
Cell culture surface
6,120 cm2
(949 in.2)
30,600 cm2
(4,743 in.2)
61,200 cm2
9,486 in.2)
122,400 cm2
(18,972 in.2)
Media volume/
surface area ratio
0.26 mL/cm2
0.18 mL/cm2
0.18 mL/cm2
0.18 mL/cm2
Bioreactor volume
1.6 L
5.6 L
11.2 L
21.9 L
Central column volume
26 mL
132 mL
263 mL
527 mL
Overall weight
2.5 kg
(5.6 lbs.)
6.9 kg
(15.2 lbs.)
12.5 kg
(27.5 lbs.)
23.4 kg
(50.7 lbs.)
Overall height
29 cm
(11.4 in.)
47 cm
(18.5 in.)
55 cm
(21.6 in.)
81 cm
(31.9 in.)
Minimum space requirement
for the bioreactor and
docking station (H x W x D)
49 cm x 48 cm x 40 cm
(19 in. x 19 in. x 16 in.)
67 cm x 48 cm x 40 cm
(26 in. x 19 in. x 16 in.)
75 cm x 48 cm x 40 cm
(30 in. x 19 in. x 16 in.)
99 cm x 48 cm x 40 cm
(39 in. x 19 in. x 16 in.)
Plate surface
612 cm2 (94.9 in.2)
Plate thickness
0.1 cm (0.04 in.)
Distance between each plate
0.16 cm (0.06 in.)
Volume between each plate
98 mL
Head space volume
50 mL
Sterilization
Gamma-irradiated to > 25 kGy
 

Performance

Performance

Standard Cell Environment Preservation

As in multitray stacks, cells adhere and grow on hydrophilized polystyrene plates and are harvested using a cell dissociation reagent.

Because of its specific design, the system maintains the same environment as T-flasks or multitray stacks, and enables implementation of a process easily-adapted from these traditional methods.

Cell Culture Parameters (pH, DO) Control and Temperature Monitoring

The Xpansion head plate includes patch ports for optical non-invasive measurement of pH and DO. For contamination risk elimination, the determination of pH and DO is based upon the principle of fluorescence. Depending on the DO and pH measurement, gas regulation is activated via the controller according to users' requirements.

Temperature is measured for monitoring via a PT100 reusable sensor installed in a thermowell of the bioreactor. The heating is done via an incubator or in a warm room.

Each measure (pH, DO and T) is associated with an alarm.

Aeration System

Gas aeration occurs depending on pH and DO control limits set by the users. Gas composition control depends on pH and DO measurement in the bioreactor. The gas coming from the controller enters via the "gas in" filter of the bioreactor and passes through very thin silicone tubing placed in the central column. The gas inlet and outlet include pre- installed hydrophobic aeration filters. Gases diffuse through the tubing.

Homogenization by Medium Circulation

Medium circulation is coupled with the aeration system which depends on pH and DO control. The medium can also circulate in the bioreactor independent of gas aeration according to users' requirements. Each plate contains 16 radial channels supporting media flow rate. The rotation of the impeller pushes the liquid upward, first vertically through the first plate channel, then horizontally over the plate, then up again to the second plate, etc.

Cell Morphology and Density Monitoring

Cell density and morphology are monitored via a specialized holographic microscope developed by Ovizio Imaging Systems NV and available through collaboration with Pall Life Sciences. This technology provides a platform to observe cells on multiple layers with high image quality.

Optical pH Sensor Performance Specifications

 
Detection range
pH 6.0 – 9.0
Accuracy
±0.1 @ pH 6.5 – 7.5
Precision
±0.01 @ pH 6.0
Response time (t90 )
30 seconds
Calibration
Shipped pre-calibrated, (calibration files on USB key provided with the reactor). One point calibration required.
Materials
USP Class VI certified
 

Optical DO Sensor Performance Specifications

 
Detection range
0 - 150% air saturation
Accuracy
+/- 3.5% @ DO 15 - 75% air saturation
Precision
+/- 1.5% @ DO 15 - 100% air saturation
Response time (t90 )
<15 seconds
Calibration
Shipped pre-calibrated, (calibration files on USB key provided with the reactor). One point calibration required.
Materials
USP Class VI certified
 


The Xpansion Bioreactor Aeration System


The Xpansion Bioreactor Aeration System

Ordering Information

Ordering Information

 
Category
Material
Description
Ref #
Hardware
Skid
1 controller
2 optical fibers for pH and DO
1 temperature probe (PT-100)
1 driver (magnetic stirring plate)
5 M of Festo gas tubing
810062 (EU)
810063 (US)
Docking station
Bioreactor support for inside incubator
810345SU
Harvest station
Mechanical cell detachment device for harvest
810334
D3HM microscope*
Holographic; for observation of up to top 10 plates of the system
810265 (EU)
810260 (US)
Lift*
Safe movement of bioreactor from package to incubator and during
observation under microscope (highly recommended for XP-100 and 200)
810076 (EU)
810077 (US)
eGraph computer*
Process data recording (pH, DO, temperature and events);1 computer can be used with up to 10 controllers
810072
Consumables
Bioreactor
XP-10: 10-plate bioreactor
810123
XP-50: 50-plate bioreactor
810122
XP-100: 100-plate bioreactor
810154
XP-200: 200-plate bioreactor
810155
Seeding manifold*
2 L bottle with female MPC♦ connector used to transfer cell suspension into seeding container.
Note: for XP-10 the manifold can be directly connected to the bioreactor; for XP-50,XP-100 and XP-200, intermediate container must be used.
6100097S
Pooling manifold*
Sterile 10 L bottle with female MPC connector used for pooling reagent bottles
(cell culture medium, PBS, Trypsine, ...) and transfer into Pall 2D BPV bag
6100129
 

* Optional equipment and consumables

Application

Bioreactors - Adherent Cell