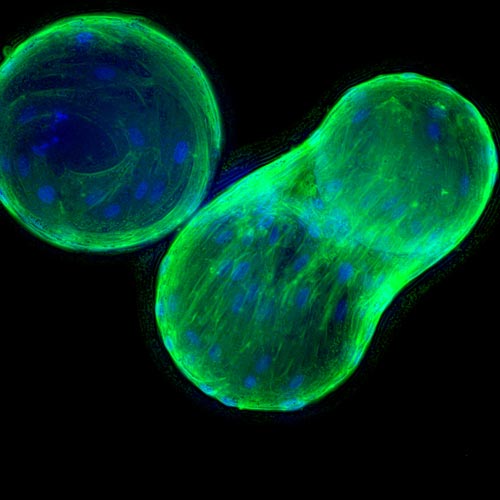 Need Help?

More Information

Description
Animal Protein Coated Microcarriers
Anchorage dependent cell lines rely heavily on optimal substrate conditions. Collagen has been shown to be an effective promoter of cell attachment and growth in monolayer cultures. With collagen coated microcarriers, processes can be transferred directly out of collagen based monolayers and moved into space efficient 3D cultures with minimal development time. This upgrade allows improved process control and process economics.
View SoloHill Animal Product Free Microcarriers
Key Features and Benefits
Excellent attachment and growth across multiple cell lines
No hydration needed, simply sterilize and use.
Solid core design able to withstand mechanical harvest methods
Starter Kits available to test in your process
The flexibility of this family of microcarriers ensures that millions of grams of SoloHill collagen coated microcarriers are used annually for the production of biopharmaceutical products and animal vaccines. Two features contribute to this success: a micro layer of denatured collagen and a crosslinked polystyrene core. Despite the small amount of animal protein used, SoloHill collagen microcarriers demonstrate ideal attachment kinetics across a wide variety of tested cell lines. The solid core design ensures no carrier fragmentation during culture conditions or aggressive harvest protocols. The smooth surface prevents absorption of media components and ensures quick proteolysis for faster preparation of single cell suspensions. Viable cell yield typically exceeds 95% and cells perform well in subsequent inoculations. These carriers are an excellent choice for scale-up projects where process development timelines are limiting.
Collagen Coated
Collagen, a normal component of the extracellular matrix produced by attached cells, has been proven to be an effective promoter of cell attachment and growth for anchorage dependent cell lines.
Experience gained in conventional collagen monolayers is directly applicable to microcarriers. Most cell lines attach and grow rapidly on SoloHill collagen microcarriers.
Size range: 90-150 and 125-212 microns
Specific gravity: 1.02-1.03, 1.034-1.046
May be sterilized by autoclaving with appropriate end user validation, or by gamma irradiation
FACT III
Fast Attachment Collagen Treated (FACT) microcarriers utilize a proprietary surface modification of the collagen layer to enhance performance. Attachment kinetics are improved in comparison to standard collagen coated microcarriers while maintaining the same rapid growth.
Size range: 125-212 microns
Specific gravity: 1.02-1.03
May be sterilized by autoclaving with appropriate end user validation, or by gamma irradiation
Standard Starter Kit
The best microcarrier and attachment conditions may vary between cell types; experimentation will allow the most confident selection of the optimal microcarrier. To accelerate your evaluation process, SoloHill microcarriers are available in a convenient starter kit.
The SoloHill Microcarrier Starter Kit makes it easy to design multivariate experiments which explore the performance of SoloHill microcarriers across media formulations and cell lines. This Standard Starter kit has been designed for general cell culture use with any anchorage-dependent cell line.
Each kit contains 5 g each of: Hillex II, Plastic, Plastic Plus, Star-Plus, Collagen Coated, and FACT III microcarriers
Packaging Formats
Solohill microcarriers are available in two product formats:
Stocked bottle format is suitable for research and process development applications. Microcarriers in this format are delivered non-sterile and bottled in convenient fixed weight quantities: 10 gm, 100 gm, 500 gm, and 1,000 gm.
For manufacturing use, microcarriers are packaged in the Allegro™ Microcarrier Delivery System (AMDS), The AMDS is a single-use package for aseptic delivery of sterile microcarriers (sterilized by gamma irradiation) directly to single-use or conventional fixed bioreactor vessels. The AMDS format delivers customer specific quantities from 30 grams to 8 Kilograms, ready for immediate use. For more information about this format, see the application note below, or contact Pall directly
Technical Support
Pall Corporation technical support specialists can assist you in identifying the optimal microcarrier for your needs as well as provide example protocols to suit many process requirements.
| | |
| --- | --- |
| | Contacting technical support connects you to a worldwide network of microbiologists and cell culture scientists who are actively engaged in hands-on research and development. They can provide consultation on protocol development, microcarrier selection and industry trends. For those seeking more comprehensive support, training services are available focusing on microcarrier selection, process optimization, and more. Our support ensures experienced researchers and those using microcarriers for the first time are employing state of the art approaches and maximizing resources. |