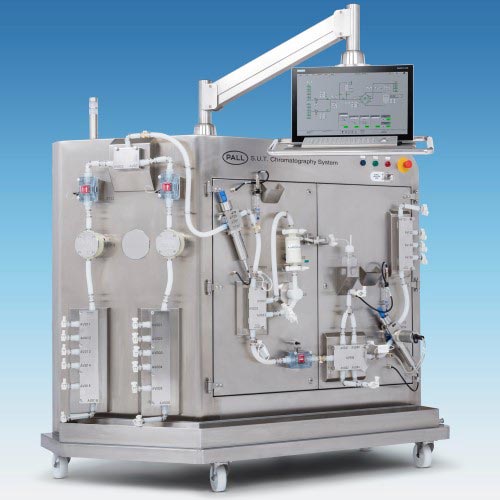 Need Help?

More Information

Description
For control, flexibility and ease of use in manufacturing
The Allegro single-use chromatography system is a flexible system designed for pilot scale, clinical production batches and commercial production. The flexible modular system design enables column operation with isocratic or gradient set up options.
Unique pinch valve blocks enable the system to accommodate both ⅜ in. (0.95 cm) internal diameter (ID) and ½ in. (1.27 cm) ID manifolds, conferring maximum flow rates of 500 and 900 L/h respectively. The column operation range is 10 - 60 cm diameter pre-packed or conventional and membrane chromatography capsules.
Intuitive Pall® Process Step Editor control software
Easy system set up and installation of manifolds
Single-use sensors options for process monitoring and control
Designed to meet all typical biochromatography applications
System Concept
The Allegro single-use chromatography system offers a combination of hardware, control automation and single-use assemblies designed to work perfectly together. Clever system design ensures ease of use in running fully automated chromatography process sequences, with simplified single-use assemblies, incorporating all of the critical sensor and instrumentation technologies. Flexibility is a key requirement for single-use system design. The system offers the end user a choice of single-use sensors for isocratic, gradient, filter/ bubble-trap, column and outlet manifolds. A range of Allegro 2D and 3D biocontainer systems are available for product loading, product eluate and buffers. Weigh scales and Pall mixer technologies can also be offered with the Allegro single-use chromatography system to suit individual process requirements.
A review of your specific process needs with our global engineering team (PASS) will ensure a solution is offered to meet exactly all of the process requirements. This might be achieved with our standard platform design for the Allegro single-use chromatography system, along with standard totes and mixers. Or it might lead to the creation of a custom design. The custom designs will still retain the core components that we have validated for use in the Allegro single-use chromatography system.
Pall has the flexibility to integrate our systems with other plant equipment and plant control systems. The system design gives full consideration to ease of use in system set up and processing, while ensuring use of components and instruments that can achieve the performance requirements for chromatography processes. Adopting single-use technologies can have many potential benefits in a process. Costs of Goods (CoG) studies have shown significant savings in capital, materials, labor and facility operating costs.


 

Figure 1

Single-use gradient manifold



Figure 2

Single-use isocratic manifold


 
Control System
Pall Process Step Editor is PLC (programmable logic controller) based automation enabling process robustness in manufacturing environments and complies with CFR21 Part11 and Current Good Manufacturing Practice (cGMP) guidelines.
Figure 3
Fully maneuverable touchscreen human machine interface (HMI)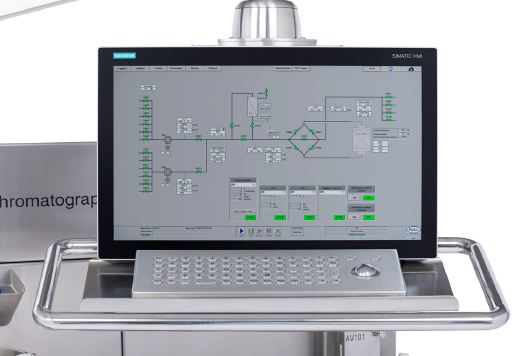 The user can select the transition points which move the process from one phase step to the next. This can be done by selection of one or several process parameters (with an "AND" or "OR" logic) such as conductivity, column volume, pH, volume, and biocontainer weight. Further flexibility is added as the system allows the configuration and use of loop and jump functions, making selective step repetitions feasible. Upon the operator's selection batch reports will be generated automatically at the end of a batch for each single step. The content of the batch report is predefined.
Supervisory control and data acquisition (SCADA) process data is captured using the integrated Pall analytical tool software module via open platform communications (OPC) and saved to a discrete database. Data can be displayed in customized charts and historical trend analysis can also be carried out for comparison of batches. Calculation of and reporting of critical process indicators such as transition analysis, peak asymmetry and height equivalent to a theoretical plate (HETP) is made easily with the Pall analytical tool.
Key System Features:
Isocratic or gradient set up options
System utilizes 

⅜

in. (0.95 cm) ID and 

½

in. (1.27 cm) ID manifolds
Utilizes new pinch valve block technology – easy manifold installation
No calibration of single-use sensors
cGMP compliant design and documentation
Compact system footprint with maneuverable HMI
Multimodal chromatography – sorbents and membrane chromatography
Intuitive Pall Process Step Editor automation platform
Reliable, robust operation
Ethernet network capability
Full security access to configuration
Data and event logging
Audit trail
Figure 4
Pinch valve buffer inlet block (left); compact single-use flow cell (right)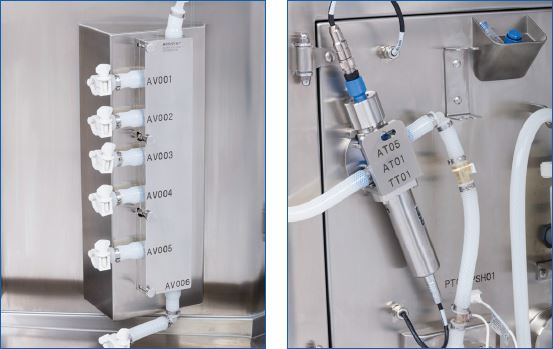 Complete Single-Use Downstream Solutions
The Allegro single-use chromatography system is part of a family of well-designed single-use automated systems for downstream processing. Allegro MVP, SUTFF and single-use chromatography systems all utilize Pall Process Step Editor automation control software platform. This enables users to operate a suite of downstream purification technologies using one common software platform, which simplifies standard operating practices (SOPs) and operator training, and provides a robust and reliable production process.
Figure 5
Allegro single-use downstream processing technologies platform, showing Allegro single-use TFF system (left), Allegro MVP system (middle) and Allegro single-use chromatography system (right).

Specifications
System Technical Specifications
 
System Capacity
⅜ in. Manifolds
½ in. Manifolds
Volumetric flow
10 to 500 L/h
20 to 900 L/h
Column diameter
10 – 60 cm
Tubing ID

⅜

 in. (0.95 cm)
½ in. (1.27 cm)
Hold-up volume
0.5 L
1.0 L
Pressure rating
0 to 4 bar
System pump
Up to x 2 diaphragm (single-use)
Inlets
6 per pump
Outlets
4
 
 
Instruments
Location
Range and Accuracy
Air sensor
Pre column (integrated into flow sensor)
Ultrasonic (0 to 100%)
Level sensor
Bubble trap (filter)
Capacitive (0 to 100%)
Pressure sensor
Post pump, pre column, post column
-0.5 to 4 bar
Conductivity sensor
Pre column (optional), post column
0 to 150 mS/cm (± 2% ± 0.4 μS/cm)
Temperature sensor
Part of conductivity sensor
5 to 40 °C (≤ 0.8% of measured value)
pH sensor
Pre column (optional), post column
± 0.1 pH unit
UV detector
Post column
0 to 3 AU @ 280 nm, ± 0.5%
Flow meter
Pre column, post pump (optional)
0-500 or 0-1000 L/h ± 3% of reading or 3% of full range (whichever is greater)
 
System Dimensions and Weight
 
Dimensions (W x D x H)
186 x 80 x 180 cm (73 x 31.6 x 71 in.)
Weight (Net)
550 kg (1213 lb)
 
Application
For control, flexibility and ease of use in manufacturing