Need Help?

More Information

Description
Process columns for optimized, contained, and scalable operation
High resolution flow path provides optimum efficiency, capacity, and peak symmetry.
Central nozzle valve provides all column functions required for packing, unpacking, and running the column within a closed system.
Scalable, reproducible packing methods reduce validation efforts as processes scale up.
Common design from 280 to 1200 mm diameter (and up to 2000 mm on request). 
Designed to minimize packing events and buffer usage to optimize process economics.
Options for manual or remote controlled nozzle valves.
Designed for Durability, Reliability, Versatility and Ease of Use
Resolute columns are available in diameters from 280 mm to 1200 mm, with 200 mm bed height adjustment and choice of bed heights up to 600 mm. Alternative bed height adjustment and diameters up to 2000 mm are available on request. Resolute manual columns feature: 
Manually operated nozzle valves. (See column options for pneumatically-actuated nozzle valves.)
Choice of bed supports in polyethylene or 316L stainless steel.
Acrylic column tube provides visibility of the packed bed.
Simple, constant compression, adjuster seal, and precision bore eliminate need for additional mechanical or pneumatic activation of adjuster seals.
Stainless steel support frame equipped with lockable castors (available up to 1000 mm column).
Resolute manual 1000 mm ID column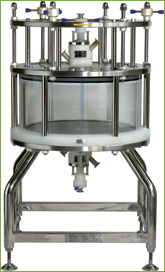 Sanitary Design
Sanitary design features ensure the longevity, consistency, and reliability of your process:
Fully flushed flow path and adjuster seal facilitate clean-in-place (CIP).
Minimum dead space fixed cell seal arrangement.
Non-metallic mobile phase flow path is ideal for high salt, low pH conditions, and eliminates the risk of corrosion within the nozzle valve.
Phthalate-free acrylic tube and peroxide-cured EPDM seals.
Low-profile central nozzle retaining ring on the bottom bed support reduces media hold-up during unpacking.
Manual Nozzle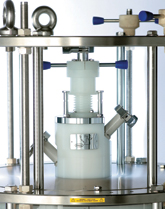 Column Options
Remote controlled pneumatic nozzle valve: a pneumatic actuator positions the nozzle to pre-set positions (Run, Pack, Unpack) with pneumatic controller and position feedback for increased process security. (Not available on 280 mm column.)
Bed supports are available in stainless steel (10/20/50 μm) and polyethylene (10/20/60 μm), which offers a lower-cost alternative when frequent bed support changes are required. 
Robust stainless steel column tube with increased chemical compatibility. (Not available on 280 mm column.)
Fixed bed capacity with no bed height adjustment available for media-specific or process requirements.
Extended adjuster range (300 mm) adds packing flexibility.
Remote controlled pneumatic nozzle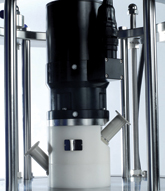 Valve Actuator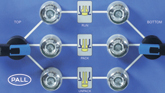 Valve Control