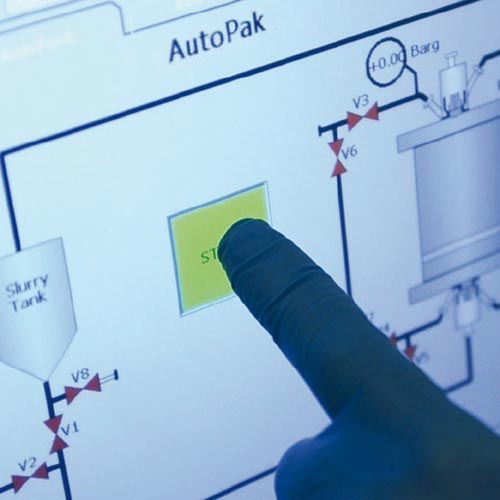 Need Help?

More Information

Description
Fully automated column packing, unpacking or clean-in-place (CIP) at the touch of a button
Building upon the proven Resolute® hydraulic column functionality, the AutoPak system is a combination of hardware and software that automates three of the key unit operations necessary in process chromatography. These key unit operations, particularly packing, can be regarded as labour intensive, high risk events. The risks include human error, packing failure and the possible absence of experienced operators which can result in plant downtime, loss of product or sorbent and inefficient use of resources.
By adopting a full automation approach AutoPak functionality greatly simplifies operation, effectively eliminating operator error and reducing the burden on key operators. The automated sequences assure that reproducible, consistent operation is the norm.
Key features of AutoPak are:
Ability to pack all the slurry in the tank, eliminating sorbent carry over or wastage
Simple operator orientated operation for packing, unpacking and CIP
Simplified set-up, departing from traditional pump pack methods for quicker turnaround of packing and unpacking operations
Consistent operation and reproducible results
Fully automated priming and packing
The system can pack the column from a single button push, proceeding from a full slurry tank / empty column to an empty slurry tank / optimally packed column without operator input.
Easy to operate
Using the dedicated software an operator is only required to enter a slurry concentration and push the start button for packing to begin. No further operator input is required for the duration of the pack.
The packing sequence will prime, fill and pack the column to give an optimally packed bed.
Use all your chromatography media
For maximum efficiency all of the slurry in the tank can be used to pack the column. The benefits are reduced cost in the purchase and disposal of excess sorbent or alternatively elimination of validation issues if the excess is used in the next packing event.
Reproducible packing
Automation of the entire packing sequence is enabled by highly consistent PLC operation. Coupled with self-calibration (as appropriate) this ensures that the equipment will deliver reproducible results after maintenance or long periods of storage. Operator error and subjective input (common in packing events) is eliminated.
Fully automated unpacking
The unpacking sequence is initiated by a single button push and continues until the column is unpacked; at end of automated unpacking, the option is given to repeat a buffer efficient rinse cycle to achieve maximum media recovery.
Low unpacking volumes
Unpacking volumes are equivalent to, and often better than, manual unpacking.
Automated CIP
The CIP sequence ensures that the column, associated pipework and valves are independently swept with cleaning liquid during operation. All waste liquids are exhausted through a single exit point for easy monitoring of pH or conductivity. Following a manual tank change the CIP sequence will rinse the column.
Highly configurable methodology
All sequences are fully configurable during commissioning to optimize the sequences for all column geometries, plant specific conditions and types of sorbent.
Manual packing
The software enables full manual control of the system, allowing all manual and pack-in-place packing methodologies to be used.