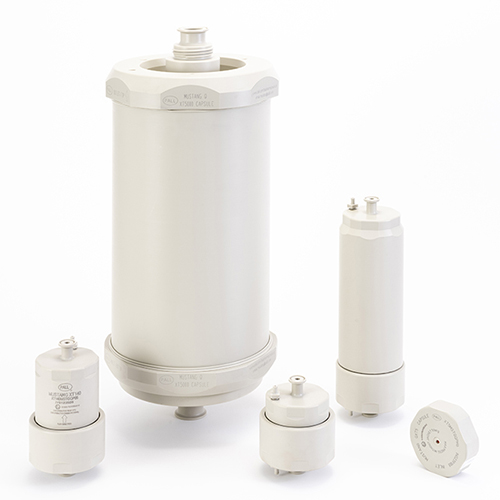 Need Help?

More Information

Description
High throughput, scalable, and reusable ion exchange membrane chromatography
The use of scalable Mustang XT membrane chromatography capsules is a flexible solution for downstream processing that significantly helps process developers improve their process economics:
Reduce process times through use of high volumetric flow rates.
Improve process economics through increased throughput and reduced buffer consumption.
Enhance process flexibility through use of a much smaller operating footprint.
Increase process capacities by linking units in parallel or series.
Pall has combined its competencies in membrane device design and chromatography to develop a range of high-performance, scalable Mustang Q XT membrane chromatography capsules. These capsules are reliable, easy to use and enable users to significantly improve their process economics through reduced buffer consumption, increased throughput and reduced capital expenditure. Processes benefit from:
High Binding Efficiency – Mustang Q XT capsules exhibit high capacities and high flow at low pressure drops, allowing binding of charged biomolecules in a single pass.
Speed – High flow rates enable the processing of large volumes in less than a single working shift. Mustang Q XT5000 capsules typically operate at 10 MV/min flow rates (50 L/min) making membrane chromatography 30 to 50 times faster than conventional chromatography sorbents.
Scalability and Flexibility – A full range of capsule sizes accommodates various volumes and capacities required in biopharmaceutical processing, from process developmentto full-scale manufacturing. Capsules can be used as single-use or cleaned and reused.
Reproducibility – Capsules are manufactured using the Six Sigma statistical process control system to ensure reproducible process and conformance to specifications, and enable consistent process performance.
Convenience – Easy-to-use capsules eliminate need for packing protocols. If used as disposables, there are no cleaning, cleaning validation, or cross-contamination issues.
Lower Cost – Membrane capsules offer lower operating and capital investment costs than conventional columns that require validated packing and cleaning protocols.
Reduced Buffer Consumption – Small device footprint requires significantly less buffer yet maintains efficient contaminant removal performance.
Mustang Membrane Technology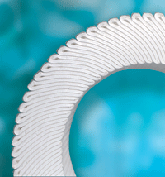 Mustang membrane chromatography continues to make advances in chromatographic separations. Its open pore structure eliminates the diffusion limitations of sorbents, allowing biomolecules to access all binding sites by direct fluid convection. This means that high dynamic binding capacities and sharp breakthrough curves are achieved over a very wide range of flow rates and also a large range of molecular sizes.
The Mustang Q XT140 capsule and Mustang Q XT5000 capsule use patented Ultipleat® pleating technology to maximize membrane volume while maintaining a small footprint. This also minimizes hold up volume, which leads to enhanced chromatographic performance with linear or step gradients.
Introducing the Mustang XT Range
Mustang Q XT capsules have been designed for optimum membrane chromatography performance, providing scalability from process development through to full scale manufacturing. Each unit is constructed with the same membrane bed height to maintain scalability for both dynamic binding capacity and pressure drop, and the durable polypropylene housing has been designed to minimize upstream and downstream hold-up volume, to enhance chromatographic performance. The durable housing also provides the flexibility to use Mustang XT devices as single use disposables, or as multi-use devices. Available at this time with Mustang Q chemistry, the Mustang Q XT capsules can be operated at typical flow rates of 10 MV/min, and exhibit excellent dynamic binding capacities for maximum throughput.
Chromatography Performance
In many applications, the dynamic binding capacity of Mustang Q membrane is equivalent to or greater than the equivalent resin chemistries; and unlike sorbents, the dynamic binding capacity is independent of flow rate. In polishing applications, for the removal of low levels of contaminants, this means high flow rates (more than 10 MV/min) and low pressure drops that can be fully exploited with minimum membrane volume. In capture applications, good resolution with high yields and minimal elution volumes are achieved, due also to the characteristics of the membrane, the uniform flow path and the very low total volume-to-membrane-volume ratio which is engineered into the Mustang Q XT capsule.
High Quality Standards
Manufactured to high quality assurance standards in accordance with ISO 9000
Membrane lots tested for dynamic protein and DNA binding capacity
Identified by lot number and a unique serial number for complete traceability of manufacturing history, satisfying stringent QC/QA requirements
Supplied with Certificate of Analysis to confirm Pall quality standards
Meets USP biological reactivity tests in vivo in accordance with requirements for USP Class VI-50 °C Plastics and all materials listed in Drug Master File submitted to the FDA
Products in this datasheet may be covered by one or more patents including :
EP 0 667 800
EP 0 982 061
EP 1 380 331
US 5,543,047
US 5,690,765
US 5,725,784
US 6,113,784
US 7,083,564
US 7,318,800
EP 1 163 045
EP 1 614 459
US 6,780,327
US 6,851,561
US 7,094,347
US 7,223,341