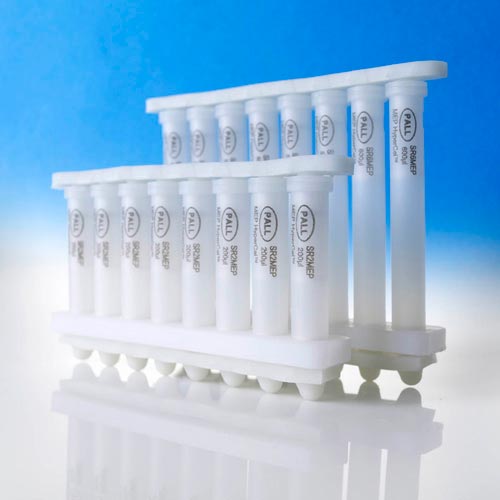 Need Help?

More Information

ScreenExpert RoboColumn
Sorbent
Description
For High Throughput Chromatography Sorbent Screening and Optimization
ScreenExpert RoboColumns are miniaturized chromatography columns pre-packed with Pall chromatography sorbents. They are designed for fully automated and parallel chromatographic separations with robotic liquid handling workstations, such as the Freedom EVO
♦
from Tecan.
ScreenExpert RoboColumns are packed with Pall anion exchange, mixed-mode,affinity or any other Pall chromatography sorbents upon request. The column units are packed by Atoll GmbH and are identical to Atoll's MediaScout
♦
RoboColumns.
Two formats are available, 200 μL and 600 μL, with a bed height of 10 and 30 mm respectively. The 200 μL column volume is recommended for sorbent and process conditions screening, while the 600 μL is used for purification process optimization or when a residence time above 4 minutes is required (e.g., capacity study on mixed-mode sorbents).
The columns are supplied as rows of eight pre-packed units, with two removable silicon cover seals for proper storage. A 96-well array plate is available to arrange up to 96 ScreenExpert RoboColumn units.
Benefits
Column format, and high quality packing enables the ability to mimic all the steps of a chromatography separation in dynamic mode. Data obtained are comparable to those obtained in larger columns
Miniaturized format facilitates screening of chromatography sorbents, reduces sample consumption, and saves time
Perfectly fitted to Design of Experiment (DoE) requirements, allowing a large amount of experimental work in a minimum of time
96-well format allows easy integration with automation systems for High Throughput Process Development (HTPD)
Multiple parameters can be tested in parallel, e.g., residence time
Reusable
Flexible use: the user makes column selection when needed
Handling
ScreenExpert RoboColumns are designed for robotic handling.
When using the high-throughput process development approach for ScreenExpert RoboColumns, it is suggested to use Design of Experiments (DoE) criteria for the experimental set-up. This enables to screen many different chromatographic parameters such as resin type, pH, conductivity / ionic strength, etc., efficiently and simultaneously.
For experimental set-up and the configuration of the 96-well array plate, the Te-Chrom Wizard is recommended. The Te-Chrom Wizard is a dialog-based graphic user interface offered by Tecan and based on the Freedom EVOware software. The Te-Chrom Wizard was developed for the use of ScreenExpert RoboColumns and provides the possibility to configure hardware, plate layout, and the chromatographic process as well as to set all process relevant chromatographic parameters, e.g., flow rate, volume without direct script writing.
♦ MediaScout and RoboColumn are trademarks of Atoll GmbH. LabChip is a trademark of PerkinElmer. Freedom EVO, Freedom EVOware, and Te-Chrom are trademarks of Tecan Group.