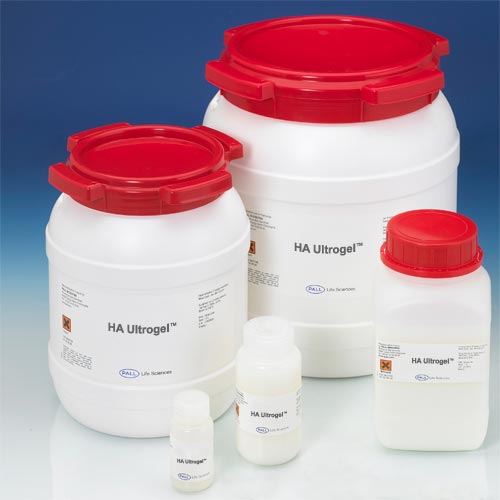 Need Help?

More Information

Sorbent - HA Ultrogel Hydroxyapatite
Description
Introduction
HA Ultrogel®  sorbent is a hydroxyapatite agarose composite sorbent for the separation of biomolecules from research and development scale to manufacturing.
Hydroxyapatite chromatography is considered to be a "pseudo-affinity" chromatography, or "mixed-mode" ion exchange. It has proven to be an effective purification mechanism in a variety of processes, providing biomolecule selectivity complementary to more traditional ion exchange or hydrophobic interaction techniques.
HA Ultrogel hydroxyapatite sorbent is composed of cross-linked agarose beads with microcrystals of hydroxyapatite entrapped in the agarose mesh. The particle size ranges between 60 and 180 µm. HA Ultrogel porosity is comparable to an agarose gel, with an exclusion limit for globular proteins of 5,000,000 daltons. This macroporosity avoids any moleculear sieving effect during the separation.
The sorbent is shipped in 1 M NaCl containing 20% ethanol and is available in a range of package sizes. Special packaging to meet specific manufacturing requirements is available on request.    
Features
Unique selectivity and separation mechanism
Protein purification in neutral , non-denaturating conditions
Laboratory scale to large-scale production columns