Single-pass tangential flow filtration (SPTFF) is revolutionizing how tangential flow filtration (TFF) is implemented in biotech, vaccine, blood plasma and other applications. Pall has now made it even easier to implement this breakthrough patented technology into your process. As with the original Cadence SPTFF modules, the Cadence Inline Concentrator (ILC) allows direct flow through in-process volume reduction and can be implemented into a process system or operated as a stand alone unit.
This exciting new technology leads to economic and practical benefits, including:
Ability to couple the concentration of product before or after other downstream processing (DSP) steps, consequently optimizing other steps and reducing in-process pool tank volumes.
Continuous processing in DSP
Easy integration of the assembled module, allowing plug and play
Potential reduction of product damage or aggregation due to reduced residence time and shear exposure.
The preassembled Cadence ILC modules do not need a holder. Once the feed port is connected to a pressurized feed source, the module is ready for use. The built-in resistor in the retentate manifold eliminates the need for downstream instrumentation and allows volume reduction of 2 to 4X (or higher), depending on the application.
Similar to other Cadence SPTFF devices, the Cadence ILC utilizes standard Pall T-Series cassettes as the building blocks for the module. These modules are offered with either Delta regenerated cellulose or Omega polyethersulfone (PES) 10 kDa or 30 kDa membranes providing the high flux, high selectivity and low protein binding characteristics associated with these membranes. They are available in a range of size formats to accommodate various processing volumes.
These products utilize proprietary technology, as well as technology licensed from SPF Innovations, and may be covered by one or more patents. See pall.com/patents.
Optimize Economic and Operational Benefits
Enhance downstream processing to increase capacity and reduce costs
Cadence ILC modules can help to eliminate or reduce the size of intermediate storage tanks and associated cleaning of tanks when used for in-process volume reduction before or after existing steps.
Enable in-process volume reduction
Depending on the initial concentration and product characteristics, a volume reduction of 2 to 4X (or higher) can be achieved with minimal instrumentation or system requirements.
Optimize processing of highly shear-sensitive products
Processing with the Cadence ILC results in only one pass through the pump and module, reducing shear exposure. For products sensitive to pumping, the pump can be completely eliminated by using pressurized vessels to flow the process fluid through the module. Further benefits are achieved by eliminating any mixing or foaming issues associated with the feed tank.
No holder required
Cadence ILC modules are provided assembled, and the cassettes and manifolds are pre-torqued between two end plates so that no extra holder is required.
Benefits include:
Easy connection to a pressure source, like a pump or pressure vessel
Simplified in-process volume reduction
Continuous processing enabled by process coupling
The module feed, retentate and permeate ports are easily connected to the appropriate outlets using clearly marked ports
Product Platform
Innovative SPTFF processing takes place within the Cadence ILC modules. The modules incorporate Pall's proven T-series cassettes with Delta or Omega membrane and are available in different formats to accommodate various processing volumes (see ordering information).
The operating conditions for any single-pass TFF process must be established by performing trials and analyzing results. Pall's Technical Service Group is available to assist in conducting trials to develop operating conditions necessary to achieve the desired process objectives.
Materials of Construction
 
Cassette
Delta regenerated cellulose or Omega PES membrane, 10 kDa or 30 kDa with polypropylene screens, polyurethane encapsulant with white pigment (TiO2), and medical grade silicone for the permeate seals
Gaskets
Medical grade, platinum-cured silicone
Manifold plates
Ultra high molecular weight polyethylene (UHMWPE)
Tubing and connectors

Tubing: pharmaceutical grade platinum-cured silicone
T01/T02 - female Luer connection and cap: polypropylene (PP)
T12 - MPC quick disconnect connector and plug: polysulfone (PS)
T06 - MPX quick disconnect connector and plug: polysulfone

 
Operating Limits
 
Maximum pressure
4.1 barg (60 psig)
Maximum transmembrane pressure (TMP)
4.1 barg (60 psig)
Processing temperature range/td>

20 – 25 °C for extended use (freezing will damage module)
Up to 40 ºC for 4 hour cleaning

pH range
2 – 13
 
Typical Feed Flow Rates
 
Cadence ILC Module Format
Membrane Area (m2)
QFEED  (L/min)
T01
0.065
0.05 - 0.3
T02
0.13
0.1 - 0.7
T12
0.7
0.6 - 3.5
T06
3.5
2.9 - 17.5
 
Integrity Test
 
Delta membrane module
< 538 sccm/m2 (<50 sccm/ft2) at 4.1 barg (60 psig)
Omega membrane module
<1600 sccm/m2 (<150 sccm/ft2) at 2.1 barg (30 psig)
 
Each Cadence module has a unique serial number for full traceability.
Shelf Life
The shelf life of Cadence inline concentrator packaged in preservative is 1 year from the date of manufacture when the modules are stored unopened in the original packaging at temperature up to 25 °C and protected from direct light. Extended shelf life studies are ongoing. Please contact Pall for updated information.
Biological Safety
The materials of construction for Cadence ILC modules have been tested and meet the requirements for the Biological Reactivity Tests listed in the United States Pharmacopeia (USP) under USP <88> for Class VI - 70 °C Plastics.
Documentation
Each module is supplied with the following comprehensive documentation to ensure the Cadence ILC module is operated successfully. Contact your Pall representative to obtain these documents.
Certificate of Quality
Material and safety data sheet (MSDS) for the module preservative solution
Care and use manual
Validation Guide
Application notes
Additional services include:
Validation service for your specific tests such as compatibility testing with your product fluid
Training and technical support to optimize your process using Cadence ILC modules
Please contact Pall for further information.
Application Notes

Cleanability and Re-Usability of the Cadence™ Inline Concentrator with Omega™ Membrane

Performance of the Cadence™ Inline Concentrator Modules for the Concentration of Human IgG

Cleanability and Re-usability of Cadence™ Inline Concentrator Modules

Volume Reduction and Process Optimization with Cadence™ Inline Concentrator

Scalability of Cadence™ Inline Concentrator Modules for Bovine IgG Processing
Applications
The Cadence ILC is designed for continuous processing or for in-process volume reduction in various steps in a wide range of applications in the biopharmaceutical industry. These include recovery of antibodies or recombinant proteins, and preparation of samples (concentrating, desalting) before or after column chromatography, and can be implemented in existing facilities facing tank capacity issues or to other process optimization opportunities.
Figure 1
Feed flux excursion test results: volume concentration factor (VCF), feed pressure as function of feed flux, 10 g/L human IgG feed solution, T01 (0.065 m2) Cadence ILC module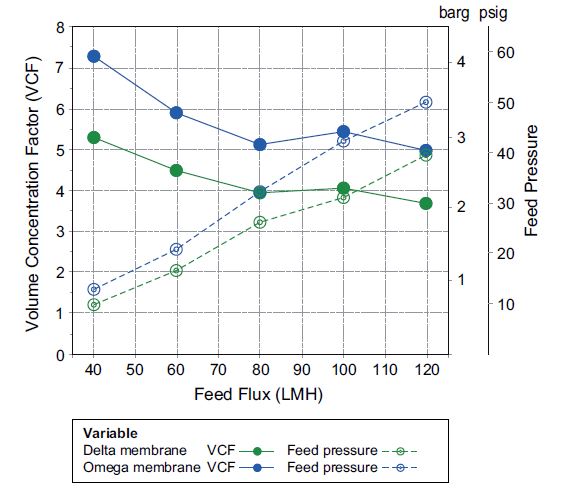 The range of operating VCF can be determined for a specific feed solution by doing a feed flux excursion.
TFF Cassettes and Modules
Tangential Flow Filtration
Regulatory/Quality Documentation
Ordering Information
Identify and order Cadence Inline Concentrator using the table below.
Guide to Cadence Inline Concentrator Module Part Numbers
IL     Inline concentrator
D or OS Cassette with Delta regenerated cellulose membrane or Omega PES membrane
010 or 030 Nominal molecular weight cut-off (MWCO) in kDa
T01, T02, T12 or T06 Cassette format
04   Number in series
07   Number of cassettes
For example, a T01 module with 0.065 m2 (0.7 ft2) of 10 kDa Delta regenerated cellulose membrane area is part number ILD010T010407.
Cadence Inline Concentrator Part Numbers
 
Delta Membrane
Omega Membrane
Cassette Format
Membrane Area (m2)
MKCO (kDa)
ILD010T010407
ILOS010T010407
T01
0.065
10
ILD010T020407
ILOS010T020407
T02
0.13
10
ILD010T120407
ILOS010T120407
T12
0.7
10
ILD010T060407
ILOS010T060407
T06
3.5
10
ILD030T010407
ILOS030T010407
T01
0.065
30
ILD030T020407
ILOS030T020407
T02
0.13
30
ILD030T120407
ILOS030T120407
T12
0.7
30
ILD030T060407
ILOS030T060407
T06
3.5
30
 
A single-pass TFF system enabling direct flow-through, in-process volume reduction in biotech, vaccine, blood plasma and other applications