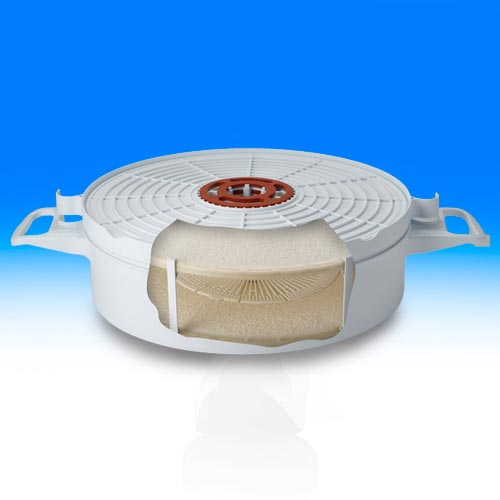 Need Help?

More Information

Description
Ideal for facilitating high solid-load content
Stax CF cake filtration capsules are ideally suited to accommodate high-solid-load contents, often occurring in various process steps in the blood plasma fractionation process, the API industry and in some biotech harvest applications. The addition of filter aids and/or lose activated carbon powder often facilitates filtration of difficult-to-handle products. However, removal of filter aids/carbon powder can be somewhat challenging. In the past, the way forward was to use filter presses equipped with individual filter sheets. Discharge of filter sheets (often completely loaded) can be a difficult process, as disposal is a dirty, labor intensive process, not suited for a GMP environment. In cases where filter cakes are contaminated, operators must be protected by wearing protective clothing in order to avoid any risk of exposure.
Using Pall's well-established Stax technology, removal of filter aids can be handled in a convenient way, as the entire system is encapsulated. After the filtration step, the removed filter aid/carbon powder is stored within the capsules, and can be easily disposed of. The Stax system enables a safe, clean way to deal with challenging process steps and streamline your process filtration applications. Stax disposable depth filter capsules increase process efficiencies and address the need for simplicity, safety, speed, and intuitive operation.
Simple, Intuitive Operation
Placed into one of three different sized chassis, Pall's single use Stax capsules eliminate the use of stainless steel housings or filter presses which require costly cleaning and cleaning validation. Stax system chassis are designed for assembly and use by a single operator and provide a logically conceived disposable platform in which the operator can load, operate and unload in an ergonomically designed vertical orientation.
With simple, straight forward and familiar features, the Stax platform eliminates the risk of error or mishap and enables greater process success. Single-use systems further maximize the overall benefits of implementing a single-use strategy and the Stax platform.
Complete Flexibility in Process Design
The Stax platform has been designed to accommodate nearly all processing options. Whether you want to process:
Bottom in/bottom out
In series
Simply using Pall's uniquely designed manifold kits provides complete flexibility in your process design.
The Pall Stax capsules are available in a wide array of advanced pharmaceutical-grade Seitz depth filter media. Supported through comprehensive validation guides, Seitz depth filter media meets the highest pharmaceutical standards for:
Quality
Lot-to-lot consistency
Manufacturing control
Low extractable content
Low endotoxin content
Features and Benefits of Stax Systems
 
Features
Benefits
Low hold-up volume
Greater product recovery and lower post use rinse volume requirements than traditional systems. Post use blow down in forward flow direction is possible
No housings
Easier to use and manipulate while eliminating operator safety issues
Completely disposable
Eliminates need for cleaning and cleaning validation
Encapsulated design
Reduces operator exposure to potential hazards
Intuitive operation
Reduces operator training and increases time to acceptance
Small footprint
Enables use in close proximity to other equipment and reduces cost to install