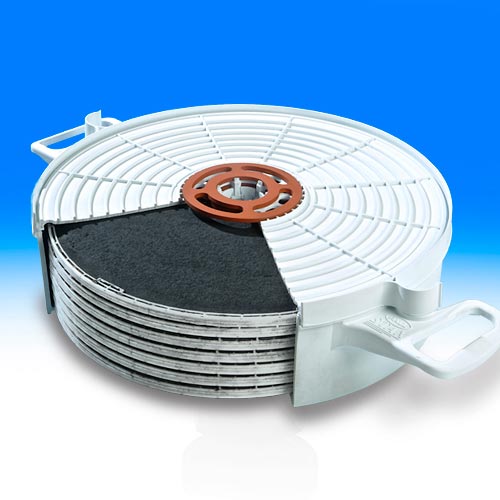 Need Help?

More Information

Description
Stax AKS Systems
Combining the high efficiency Seitz AKS media grades with the Stax capsule represents a milestone in minimal handling of activated carbon.
The Stax System Design Provides Simple and Intuitive Operation
Placed into one of the three different sized chassis, Pall's single-use Stax AKS capsules eliminate the use of stainless steel housings which require costly cleaning and cleaning validation. Stax system chassis are designed for assembly and use by a single operator and provide a logically conceived disposable platform in which the operator can load, operate and unload in an ergonomically designed vertical orientation. With simple, straight forward and familiar features, the Stax platform eliminates the risk of error or mishap and enables greater process success.
Complete Flexibility in Process Design
The Stax platform has been designed to accommodate nearly all processing options. Whether you want to process:
Bottom up
Top down
Bottom in/bottom out
In series
Simply using Pall's uniquely designed manifold kits provides complete flexibility in your process design.
 
Features
Benefits
No housing
Easier to use and manipulate while eliminating operator safety issues
Completely disposable
Eliminates need for cleaning and cleaning validation
Small footprint
Enables use in close proximity to other equipment and reduces cost to install
Intuitive design
Reduces operator training and time to acceptance
Encapsulated design
Reduces operator exposure to potential biohazards
Low hold up volume
Greater product recovery and lower post use rinse volume required than traditional modules and housings
 
Seitz AKS Filter Media
Macro- and mesopores can generally be regarded as the highways into the carbon particle, and are crucial for adsorption kinetics. Macropores are used for the transport, and absorption occurs in the meso- and micropores. Small molecules, such as methylene blue, which has a molecular weight of 319.86 daltons, are mainly captured in micropores. For larger impurity molecules, other pore structures in the carbon must be available to ensure optimal adsorption. Carbon, which can capture larger molecules, tends to adsorb smaller impurities as well, whereas dedicated carbons for small molecules do not remove larger contaminants. The table below provides an overview of how different AKS grades may suit an application based on their general characteristics. However, due to the various factors that may affect the adsorption process, Pall recommends scaled-down testing of several Seitz AKS filter media using Pall UpScaleSM program test kits as the most reliable way. For more information please reference Pall data sheet USD 2459 or validation guide USTR 2491.
Typical Efficiency Characteristics of Pall Seitz AKS Media Grades
 
Media Grade
Efficiency Characteristics
Typical Molecular weight of Target Contaminants
AKS 1
Ultra high efficiency
400 – 1500 Daltons
AKS 2
Ultra high efficiency
400 – 1000 Daltons
AKS 5
High efficiency
200 – 400 Daltons
AKS 6
High efficiency
400 – 1500 Daltons
AKS 7
Ultra high efficiency
400 – 1500 Daltons
AKS 8
High efficiency
400 – 1000 Daltons
AKS 9
High efficiency
400 – 1000 Daltons