Need Help?

More Information

Description
Cutting-edge supplier integrity test for single-use systems implemented in critical processing steps of drug substance or drug product, to enhance patient safety
Single-use technologies have gained strong market acceptance in both clinical and manufacturing operations, even in the most critical processing steps involving highly-purified sterile drug substances or drug products. To reduce the risk of potential loss of integrity of single-use systems (SUS) and to ensure patient safety, drug manufacturers perform risk assessments and develop strategies for the control and assurance of integrity of SUS in partnership with their suppliers. For the SUS applications considered as the most critical, drug manufacturers may request an extremely sensitive and non-destructive test at the SUS supplier's manufacturing site, for Container Closure Integrity (CCI) assurance.
How Can A Single-Use Biocontainer Assembly Be Integrity Tested
For SUS applications requiring a very high level of assurance of integrity, we can perform a helium integrity test upon request for Allegro 2D standard systems. The HIT platform provides the highest level of control of integrity for SUS incorporated into the most critical steps of drug substance or drug product bulk storage.
The HIT platform enables 2D storage SUS integrity testing at 2 µm for:
The highest assurance of integrity of SUS used in sterile storage applications.
Enhanced patient safety.
Increased availability of drug, less risk of batch losses due to leakage or sterility breach.
Increased safety for operators, better assurance of containment of potent or hazardous drugs.
The HIT test occurs upon request at the Pall site during the manufacturing of Allegro SUS.
Applications
Single-use systems for the commercial production of drugs.
Sterile processes in vaccines, gene and cell therapy applications.
Bulk storage of mAb, vaccines, r-proteins etc.
When dealing with complex SUS, e.g. manifolds, filter capsules etc, additional tests using a high sensitivity pressure decay test may be required on the SUS fluid transfer parts. We can also offer these tests for specific end-user's requests. Contact us with your requirements.
The HIT method is a non-destructive test method. The method and acceptance criteria have been fully validated to detect 2 µm defects with assemblies including Allegro 2D biocontainers ranging in size from 50 mL to 20 L. A validation guide is available upon request. Please contact your local Pall office or distributor for more details.
Further developments are in progress for Allegro 3D SUS. Contact us for more details. For further information on Helium Integrity Test (HIT™) Technology for Allegro™ 2D Single-Use Systems, please view the datasheet.
Related Products
End-user point-of-use in-situ leak testing is vital to confirm that no damage has occurred during shipping, handling or installation of the single-use system. We set very high standards with regards to the design and validation of the manufacturing process for Allegro SUS to deliver integral SUS. At end-user's sites, operators should be well-trained in unpacking, handling, and installing single-use systems. However, there may be still a need to confirm the absence of leaks prior to or after use from a risk management perspective. By performing an easy and reliable point-of-use leak test, end-users can check that the SUS has not been damaged during the installation, and/or use or storage process. This point-of-use test complements Pall's manufacturing tests and provides an additional level of assurance of integrity.
The Palltronic® Flowstar LGR Test Instrument enables in-situ, post-installation point-of-use leak testing of single-use systems up to 200 L nominal volume and provides the ability to test filter integrity. It allows end users to test endless configurations of single-use systems and filters with one device, without compromising system sterility. It is more specifically designed for use in the vaccines, biotech, and pharmaceutical markets and with a specific focus on formulation and filling applications.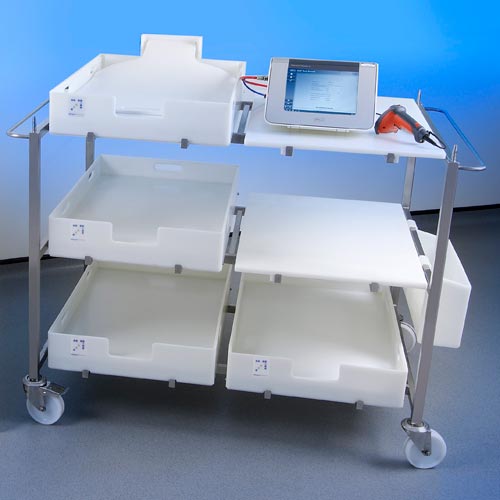 Palltronic® Flowstar LGR Test Instrument
View Details »
Additional Information
The Bio-Process Systems Alliance (BPSA) has a task force working on the Assurance of Integrity of Single-use Systems. This focus group issued a BPSA guide in July 2017 on 'Design, Control, and Monitoring of Single-Use Systems for Integrity Assurance'. It provides very valuable information and recommendations on the approach to assessing the integrity of SUS and on practical testing for assurance of integrity, critical size detection, etc.
External Article: Design, Control, and Monitoring of Single-Use Systems for Integrity Assurance
Segment
Filling Technologies
Single-Use Solutions