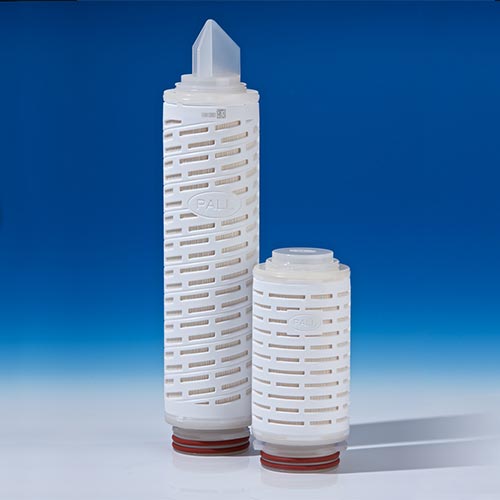 Need Help?

More Information

Description
Unrivalled hot air filter for long life
and easy water intrusion testing
Emflon HTPFR filter cartridges are specifically designed for the sterile filtration of air, gas and vent service in critical, hightemperature and ozonated-water venting applications. They can also be considered for use in oxygen-enriched air applications in the biopharmaceutical and biotechnology industries (see Pall publication USTR2311a). High-temperature applications include autoclave, fermentation inlet air, aseptic packaging/blow-fill-seal and hot Water For Injection (WFI) tank vents. These filters incorporate a double-layer (0.2 μm) of inherently hydrophobic, Pall-manufactured polytetrafluoroethylene (PTFE) membrane. The polypropylene hardware is specially formulated with protective anti-oxidants and the filter's support and drainage layers are made of polyphenylene sulfide (PPS) polymer. Oxidation-resistant filter components allow extended use in air/vent service up to 100 °C and for shorter periods up to 120 °C.
Features
Designed for Water Intrusion Test (WIT)
Oxidation-resistant materials of construction
Proprietary, Pall-manufactured PTFE membrane
Validated with B. diminuta at >107 cfu/cm2
Fully validated under stringent microbial, phage and particulate challenge tests
Designed for multi-cycle autoclave and in situ steam
High flow rates, low pressure drops
Laser-etched part/serial number and 2D matrix code
Benefits
No alcohol required
Long service life in hot air and vent applications; also suitable for oxygen-enriched fermenter applications (see Pall publication USTR2311a)
Hydrophobic membrane, subject to rigorous Pall manufacturing and quality controls; secure supply source
Provides sterile air/gas under wet and dry conditions, meets cGMP sterilizing-grade filter requirements
Improves microbial safety; mitigates virus contamination risk
Robust construction offers enhanced steam resistance
Allows smaller filtration systems, reducing installation and operational costs
Easily traceable; product information easily read or scanned with a barcode reader (e.g. the Palltronic® barcode reader)
Certified For Pharmaceutical Use
Emflon HTPFR filter cartridges are qualified for use in pharmaceutical GMP manufacturing. Each filter is supplied with a Certificate of Test confirming pharmaceutical industry requirements for fabrication integrity, effluent quality and biological safety testing. Pall filters are manufactured in a controlled environment under a quality management system certified to ISO9001:2008. All Emflon HTPFR cartridges are Forward Flow integrity-tested in manufacturing, correlated to bacterial retention in liquids and bacteriophage (virus) retention in air, and are fully traceable by laser-marked lot and serial number. Filter lot samples are also tested for water intrusion.
Filter components meet requirements for biological reactivity in vivo under USP <88> for Class VI – 121 °C plastics and in vitro, under USP <87> (Elution Test). This includes the Systemic Toxicity Test, Intracutaneous Test, Implantation Test and the MEM Elution Cytotoxicity test. The filters are made from materials listed for food contact usage per Title 21 of the US Code of Federal Regulations (CFR) Parts 170-199.
Effluent Quality Tests
Meets with adequate safety margin the current limits under USP <788> Particulate Matter in Injections after flushing, with effluent counts determined microscopically
Non Fiber-Releasing per Title 21 of the U.S. Code of Federal Regulations (CFR) parts 211.72 and 210.3(b)(6)
Meets the current USP Oxidizable Substance requirement after flushing, under Sterile Water for Injection, as determined by a potassium permanganate test
Meets internal specification for pH after flushing when tested in accordance with USP <791>
Meets internal specifications for pyrogens when an aliquot from a soak solution is tested using the Limulus Amoebocyte Lysate (LAL) reagent