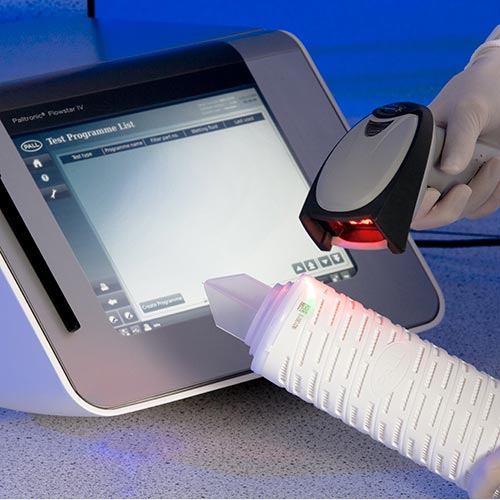 Need Help?

More Information

Description
Easy, fast and safe data entry and test selection for Palltronic® Flowstar IV integrity test instruments
In modern pharmaceutical manufacturing, filters are often installed across various locations, and in a wide range of applications. Part numbers for each of these filters may differ only slightly, and a filter may also be installed in a housing which is also identified by number – making it difficult for the user to select and implement a suitable integrity test program.
The Palltronic barcode reader is ideal for use with Palltronic Flowstar filter integrity test instruments and can read and interpret both one-and two-dimensional barcodes. This enables the user to automatically select a pre-defined integrity test program, and to enter critical data into required fields to run the integrity test. It is connected to the
Palltronic Flowstar IV instrument
via the USB port. The user simply scans the barcode label with the name of a stored test program. The instrument will then prompt the user to input the variable data for the named test program. If the scanned label contains codes for a filter part number, any stored test programs for the specific filter are listed and can be selected. When the test program is selected and the necessary data entered, the integrity test can be started immediately.
Barcodes can be created using the supplied barcode-generating program for the Palltronic Flowstar IV instrument. The program can create 2D barcodes that can be copied into the computer's memory or printed and passed into documents and reports. Barcodes generated with the program include field identifiers, so that the instrument can match the code to the correct data fields. 
Features
Programmed tests and parameters can be selected with a simple scan
Filter serial numbers can be identified directly from the tested filters
Delivered pre-configured for immediate use
Can read and interpret several different barcode formats
Can generate barcodes for test parameters or full test programs with the supplied barcode-generating software
Qualification protocols for the barcode reader are available 
Tough and robust: IP54-rated to protect against penetration of dust or liquid
Benefits
Increases process safety and confidence in the use of test programs and test parameters
Avoid time spent having to search for the correct set of test results, due to typographical errors in critical data
No time-consuming installation or setup
Flexibility – compatible with filters from any manufacturers that include standard barcodes on their products
Barcodes for different parameters are easily created, without the need for any external software
Performing qualification is simplified
Can be used anywhere the Palltronic Flowstar instrument is in use, even in the most demanding environments
Specifications
Dimensions
Length
13.5 cm (5.3 in.)
Height
16.3 cm (6.4 in.)
Width
8.1 cm (3.2 in.)
Weight
213 g (0.47 lb)
Environmental Conditions
Housing
UL 94V0 grade
Sealing
IP54 (water and dust-resistant)
Mechanical shock
Operational after 50 drops from 2 m (6.5 ft) to concrete
Relative humidity
0 – 95%, non condensing
Ambient light
0 – 100,000 lux (full sunlight)
Motion tolerance
10 cm (4 in.) per second
Operating temperature
-10 to 50 °C
Storage temperature
-40 to 70 °C
Interface
Instrument
Interface
PaIltronic Flowstar IV instrument (all models)
USB
Ordering Information
Part Number
Description
S44.5.44
S44.5.45
Standard Barcode Reader for the Palltronic Flowstar IV instrument
Wireless Barcode Reader for the Palltronic Flowstar IV instrument