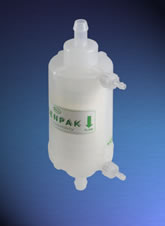 Need Help?

More Information

Description
Kleenpak filter capsules with low-protein-binding 0.2 micron Bio-Inert membrane are self-contained sanitary filters, designed for convenient sterilizing filtration of small-batch dilute protein solutions. They are validated to produce sterile effluent when challenged with
B. diminuta
(ATCC 19146) at a concentration greater than 10
7
CFU per cm
2
effective filter area of membrane (per ASTM 838-05). Incorporating two layers of intrinsically hydrophilic acrylate-modified Nylon 6,6 filter membrane, they are well suited to the microbial filtration of biological process fluids where the end user desires to minimize non-specific adsorption of proteins. Their rugged, compact design ensures reliability.
Features and Benefits
Filter elements are 100% integrity and capsules are 100% pressure tested
0.2 micron sterilizing-grade
Low protein binding
Low filter extractables
Sanitary vent and drain valves with non-twist hose barbs
Low hold-up volumes
Autoclavable version
Manufactured for use in conformance with cGMP
Quality and Bio-Safety Biological Tests
Integrity Tests
Every filter element tested during manufacture. Test correlated to microbial retention
Biological Tests
Meets USP Biological Reactivity test, in vivo, for Class VI-121°C Plastics
Effluent Quality Tests*
Meets Cleanliness per USP Particulates in Injectables
Non-Fiber-Releasing
Non-Pyrogenic per USP Bacterial Endotoxins (<0.25 EU/mL)
Meets Total Organic Carbon and Water Conductivity per USP Purified Water
* Per lot sample or rinse-flush aliquots
Specifications
Materials of Construction
Membrane
Nylon 6,6 Bio-Inert
Support and Drainage
Polyester
Core and Cage
Polypropylene or polyester
Endcaps and Shell
Polyester
O-rings
Ethylene Propylene (EPDM)
Microbial Removal Rating1
Grade NFL
0.2 micron, sterilizing-grade
1 Lot samples retain > 107 CFU/cm2 of Brevundimonas diminuta per modified ASTM F838-05 test
Typical Liquid Flow Rate2
Size 1 (KA1)
0.3 L/min
Size 2 (KA2)
0.6 L/min
Size 3 (KA3)
1.4L/min
2 Typical clean filter delta P, water at 20 °C (68 °F), 1 cP. Values shown are for 11⁄2in. (38 mm) sanitary flange connections. Values with other connections are available on request. For assistance, contact your local Pall representative
Effective Filtration Area
Size 1 (KA1)
0.05 m2 (0.53 ft2)
Size 2 (KA2)
0.1 m2 (1 ft2)
Size 3 (KA3)
0.23 m2 (2.1 ft2)
Sterilization Conditions
Autoclave
16 x 1-hour cycles at 125 °C (257 °F)
4 x 1-hour cycles at 140 °C (284 °F)
Operating Conditions3
Maximum Pressure and Temperature
5.2 barg (75 psig) to 40 °C (104 °F)
Maximum Differential Pressure
4.1 bard (60 psid) at 40 °C (104 °F)
3 Using compatible liquids
Aqueous Extractables (NVR)4
Size 1 (KA1)
Size 2 (KA2)
Size 3 (KA3)
7 mg
10 mg
12 mg
4 4 hours recirculation with water at 20 – 25 °C after autoclaving
Nominal Dimensions5
Length (including Sanitary Connection)
Size 1 (KA1): 107 mm (4.6 in.)
Size 2 (KA2): 158 mm (6.2 in.)
Size 3 (KA3): 174 mm (6.8 in.)
Maximum Diameter of Bowl (including Valves)
Size 1 (KA1): 94 mm (3.7 in.)
Size 2 (KA2): 94 mm (3.7 in.)
Size 3 (KA3): 109 mm (4.2 in.)
5 Sanitary connection is Tri-Clamp♦ compatible. Tri-Clamp is a trademark of Ladish.
Ordering Information
Description
Part Number
Kleenpak Capsules with Bio-Inert Membrane

Size 1; 1 to 11⁄2 in. sanitary flange inlet/outlet connections
KA1NFLP1

Kleenpak Capsules with Bio-Inert Membrane

Size 1; 1⁄2 in. (13 mm) hosebarb inlet/outlet connections
KA1NFLP6

Kleenpak Capsules with Bio-Inert Membrane

Size 2; 1 to 11⁄2 in. sanitary flange inlet/outlet connections
KA2NFLP1

Kleenpak Capsules with Bio-Inert Membrane

Size 2; 1⁄4 to 1⁄2 in. (6 mm to 13 mm) stepped hose barb inlet/outlet connections
KA2NFLP2

Kleenpak Capsules with Bio-Inert Membrane

Size 2; 1⁄2 in. (13 mm) hosebarb inlet/outlet connections
KA2NFLP6

Kleenpak Capsules with Bio-Inert Membrane

Size 3; 1 to 11⁄2 in. sanitary flange inlet/outlet connections
KA3NFLP1

Kleenpak Capsules with Bio-Inert Membrane

Size 3; 1⁄2 in. (13 mm) hosebarb inlet/outlet connections
KA3NFLP6