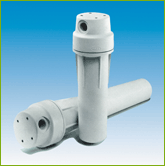 Need Help?

More Information

Description
Pall PCY filter housings are manufactured from reinforced polypropylene and incorporate several innovative features. Four styles of cartridge fitting are available, each welded into the head to eliminate the risk of bypass. The ability to utilize a range of Pall filter cartridge styles incorporating secure sealing mechanisms together with a high pressure rating allows for flexibility and security in a wide range of process applications.
Features and Benefits
Sturdy reinforced polypropylene designs for rugged liquid service and long-life
Broad chemical compatibility
Choice of filter cartridge styles and lengths
Flow rates up to 100 L/min (20 gal/min)
25 mm (1 in.) connections for high-flow rates and low pressure drops
Pressure rating up to 150 psig (10 barg)
Welded fittings for different styles of Pall filter cartridges
Provision for drain, vent and mounting bracket
Multi-cartridge Housings
For larger flows, multi-cartridge housings in stainless steel and plastic are also available from Pall.