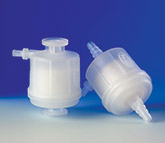 Need Help?

More Information

Description
Pall's Fluorodyne EX grade EDT filter is a highly retentive mycoplasma control filter to be used where the sterility assurance and economical filtration of culture media or other hard-to-filter fluids is paramount.
A unique three-layer construction contributes to outstanding throughput, high flow rates and the superior retention of bacteria and mycoplasma during the filtration of process fluids.
The Mini Kleenpak™ capsules are compact filters used in the laboratory for volumes of 2 L to 50 L in process development, and in pilot and manufacturing scale operations if processing requirements do not demand a large filter. These filters are the smallest capsule filters in the UpscaleSM Program range to utilize a pleated membrane, and are excellent for modelling filter performance at large production scale.
Key Features and Benefits
Encapsulated format for higher flexibility, minimized cleaning and low installation costs
Minimal hold up volume
Ideal for upscale trials
Asymmetric built-in prefilter for highest dirt-holding capacity
High flow rate
Low protein and preservative binding
Low extractables
Further Reading

  Poster: A. laidlawii Filtration Through a 0.1-micron Rated Filter at Elevated Pressures



  Poster: Scale Up of Direct Flow Membrane Filters



  Article: Effect of Prefiltration on Scalability of 0.1-µm rated Membrane Filters
 


  Article: A New Direction In Mycoplasma Removal



  Article: Bacterial Penetration of 0.2 μm Sterilizing- Grade Filters with a Cholesterol Liposome Carrier: A Comparison of Data

  Article: Contamination Costs - Current Trends in Process Economics for Mycoplasma-Retentive Filtration of Cell Culture Media ¹
¹ Reproduced with the kind permission of European Biopharmaceutical Review magazine
² ³ External link