Need Help?

More Information

Description
Pall Ultipor® N66 particulate/bioreduction filter cartridges are specifically engineered for fine filtration, prefiltration and bioburden reduction of a wide range of pharmaceutical and biological liquids. They incorporate versatile Ultipor N66 pure Nylon 6,6 membranes which are high-area pleated into single open-ended (SOE) AB style cartridges to fit in sanitary filter housings, and provide reliable, economical and efficient particulate and bioburden removal.
Features and Benefits
Intrinsically water wettable 
Fixed pores, non-shedding 
Resin and surfactant-free
Low filter extractables 
High-area for long-life
Broad solvent compatibility 
High protein recovery from most protein solutions 
Repeatedly steamable in situ 
Manufactured for use in conformance with cGMP
ISO 9000 Certified Quality System 
Pharmaceutical P optimized 
Certificate of Test provided 
Double open-ended (DOE) available 
FDA-listed materials per 21 CFR
Note: These filters are also available in Kleenpak Nova capsule format.

Quality and Bio-Safety

Biological Tests
Meets USP Biological Reactivity test,in vivo, for Class VI-121 °C Plastics
Effluent Quality Tests (AB Style)*
Meets Cleanliness per USP Particulates in Injectables 
Non-Fiber-Releasing 
Non-Pyrogenic per USP 
Meets Total Organic Carbon and Water Conductivity per USP Purified Water, pH per USP Sterile Purified Water


* Per lot sample soak or rinse-up flush aliquots.
Specifications
Materials of Constructions
 Membrane
 Nylon 6,6
 Support, Drainage and End Caps
 Polyester
 Core and Cage
 Polypropylene
  O-rings
 Silicone1
1
Other materials available on request
Microbial Removal Ratings
 NK
 0.65 µm particulate rated
 NB
 0.45 µm microbial-rated (Typical Serratia marcescens TR > 104 – 6)
 NX, NL
 0.45 µm microbial-rated (Lot samples retain > 107/cm2 Serratia marcescens)
 NA
 0.2 µm microbial-rated (Typical Brevundimonas diminuta TR > 104 – 6)
Nominal Dimensions
 Lengths
 254 mm (10 in.), 508 mm (20 in.), 762 mm (30 in.), 1016 mm (40 in.)
 Diameter
 70 mm (2.75 in.)
Configuration (AB Code 7)2
Double 226 O-ring adapter
Fin end with bayonet lock
2
Alternate adapters codes available on request
Operating Conditions3
Maximum Differential Pressure and Temperature 
5 .5 bard (80 psid) to 50 °C
4.1 bard (60 psid) to 80 °C
2.1 bard (30 psid) to 125 °C
3
Using compatible liquids
Typical Flow Rates 4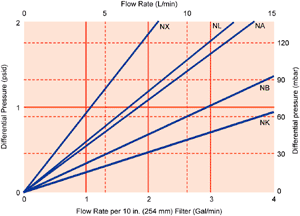 4 Typical initial clean media P 254mm (10 in.) element; water at 20 °C; viscosity 1 cP. For assistance in filter assembly sizing and housing selection, contact your local Pall representative.
Autoclave and Steaming in situ5
Cumulative Steam Exposure 
16 hours (1-hour cycles) at 121 °C
4 hours (1-hour cycles) at 140 °C
5
Contact Pall for details
Aqueous Extractables (NVR) per 254 mm (10 in.) Element