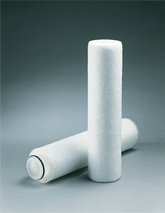 Need Help?

More Information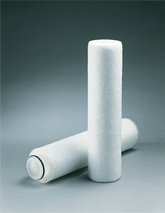 Unit of Measure
3/EA
Min Order Qty
3
Effective Filtration Area (Metric)
50 cm²
Format
1" filter cartridge
Description
Pall Profile II filters provide:
Absolute removal ratings for reliability
Built in prefiltration for economy
Revolutionary new construction for long service life and high flow-rates
Features and Benefits
Based on the widely accepted modified F-2 Filter Performance Test(1), Profile II filters can be expected to yield longer service life, in many cases by factors of six or more, and higher flow rates when compared with existing products of similar physical appearance at equal efficiency.
The specific features include:
Excellent compatibility with a wide range of chemicals
Continuous operating temperatures up to 82 °C
Wide choice of particulate removal efficiencies from 0.3 µm to 120 µm absolute to optimize filter ratings for each application
No media migration — the fibers are continuous and fixed by intertwining during the manufacturing process
Very low extractables — no binders, lubricants or surfactants are used during manufacture
Choice of cartridge length to match flow rates
Choice of three cartridge styles — AB, RMF and RF style to suit different housing styles and applications
(1) For additional information on the complete range of Profile II filters and the F-2 Filter Performance Test, please contact Pall.

Note: These filters are also available in Kleenpak Nova capsule format.