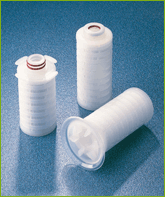 Need Help?

More Information

Description
These validated 0.2 micron-rated sterilizing grade filters retain
Brevundimonas diminuta
(ATCC 19146) at 10
7
CFU/cm² effective filter area (EFA) and ensure very low extractables and adsorption. They are recommended for sterilizing filtration of pharmaceutical fluids including solutions with active ingredients, biologicals, biotech proteins, ophthalmics and other dilute preservative solutions.

Junior filter cartridges (MCY style) are single-use filter cartridges, for use with in-line stainless steel filter housings, and feature double O-ring piston seals comparable to 'AB-style' cartridges. They are designed for processing of volumes of material (30 L to 500 L) in a small-to-mid-size GMP manufacturing environment. Junior filter cartridges (SBF style) are the smallest of Pall's replaceable cartridge format filters to feature a pleated membrane, and function with dedicated stainless steel 'In-Line' or 'T' style housings. They are ideal for the processing of small volumes of fluid (2 L to 50 L) for R&D, process development or small-scale manufacturing.