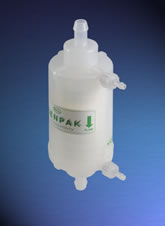 Need Help?

More Information

Description
Fluorodyne EX grade EDF filters are 0.2 micron rated high capacity, low protein binding sterilizing grade filters. Incorporating a built-in prefiltration layer and validated to retain
B. diminuta
at a challenge level of 10
7
cfu/ cm
2
of membrane, Fluorodyne EX grade EDF filters are ideal for the sterile filtration of cell harvest material and challenging intermediate and final bulk biological process fluids.
Kleenpak capsules with Fluorodyne EX grade EDF membrane are rugged and compact, and are designed for use in pharmaceutical manufacturing and pilot scale filter evaluation.
Further Reading

 Poster: Scale Up of Direct Flow Membrane Filters



 Article: Bacterial Penetration of 0.2 μm Sterilizing-Grade Filters with a Cholesterol Liposome Carrier: A Comparison of Data