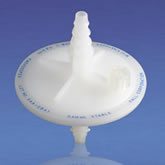 Need Help?

More Information

Description
Fluorodyne EX grade EDF filters are high capacity, low protein binding sterilizing grade filters. Incorporating a built-in prefiltration layer and validated to retain
Brevundimonas diminuta
(ATCC 19146) at a concentration of 10
7
CFU/cm², Fluorodyne EX EDF filters are ideal for the sterile filtration of cell harvest material and challenging intermediate and final bulk biological process fluids.
Mini Kleenpak 20 capsules are suited to both the filtration of low volumes of fluids (50 mL to 2 L) in the laboratory for filterability purposes, or in a GMP production environment where a certified filter product is essential and a single-use alternative to the cleaning of 47 mm disc holders is desired.
Key Features and Benefits
Ideal for screening trials
Asymmetric built-in prefilter for higher dirt-holding capacity
Low protein and preservative binding
Low extractables
Quality Standards
Manufactured for use in conformance with cGMP
ISO 9000 Certified Quality System
Meets USP Biological Reactivity Test in vivo for Class VI-121 °C plastics
Every filter lot tested during manufacture
Test correlated to microbial retention
Certificate of Test provided includes:

Fabrication Integrity
Bacterial Retention
Materials of Construction
Effluent quality for cleanliness, TOC and water conductivity, pH and pyrogens
Further Reading

Poster: Scale Up of Direct Flow Membrane Filters

Article: Bacterial Penetration of 0.2 μm Sterilizing-Grade Filters with a Cholesterol Liposome Carrier: A Comparison of Data