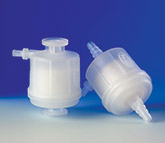 Need Help?

More Information

Description
These validated 0.2 micron-rated sterilizing-grade filters retain
Brevundimonas diminuta
(ATCC 19146) at 10
7
CFU/cm² effective filter area (EFA) and ensure very low extractables and adsorption. They are recommended for sterilizing filtration of pharmaceutical fluids including solutions with active ingredients, biologicals, biotech proteins, ophthalmics and other dilute preservative solutions.
Mini Kleenpak capsules are used in the laboratory for process development and in pilot and manufacturing scale operations if processing requirements do not demand a large filter (process volumes from 2 L to 50 L). They are the smallest capsule filters with a pleated membrane in Pall's UpScale and are excellent for modeling filter performance at large production scale.
Key Features and Benefits
Encapsulated format for higher flexibility, minimized cleaning and low installation costs
Minimal hold up volume
Ideal for scale-up trials
Highest flow of comparable PVDF filters
Low extractables  
High protein transmission
Rapid preservative recoveries 
Easy integrity testing 
Compatible with organic solvents, acids and chemicals¹
Resin and surfactant-free 
Melt-sealed, non shedding
¹ Except ketones and amides
Quality Standards
Manufactured for use in conformance with cGMP 
100% integrity tested
ISO 9000 Certified Quality System
Meets USP Biological Reactivity Test in vivo for Class VI-121 °C plastics
Every filter tested during manufacture
Test correlated to microbial retention
Certificate of Test provided includes


Fabrication Integrity 
Bacterial Retention 
Material of Construction
Effluent quality for cleanliness, TOC and water conductivity, pH and pyrogens
Specifications
Materials Of Construction
Filter Membrane
Hydrophilic modified PVDF

Support/Drainage
Capsule Shell
Filling Bell

Polypropylene
Polypropylene
Polycarbonate
Sealing Technology
Thermal bonding without adhesives
Operating Parameters¹
Maximum Operating Temperature
40 °C
Maximum Operating Pressure
4.1 bar (60 psi) at 40 °C
Maximum Differential Pressure (Forward Direction)
4.1 bar (60 psi) at 40 °C
¹ In compatible fluids which do not soften, swell or adversely affect the filter or its materials of construction

Sterilization²
Autoclave (G option only)
3 x 60 minutes at 125 °C
Gamma Irradiation (G option only)
Maximum of 50 kGy
² Pre-sterilized Mini Kleenpak capsules must not be re-sterilized. Mini Kleenpak capsules must not be sterilized in-situ by passing steam under pressure


Typical Extractables in Water at 20 °C³
G option only
< 1 mg
S option only
< 5 mg
³ In compatible fluids which do not soften, swell or adversely affect the filter or its materials of construction
Nominal Dimensions
Maximum diameter including valves
41 mm (1.6 in.)
Length - Code 2
105 mm (4.1 in.)
Length - Code 8
73 mm (2.9 in.)
Nominal Effective Filter Area (EFA)


Ordering Information
Part Number
Description
KA02DFLP2G
0.2 micron sterilizing grade and mycoplasma control, ¼ - ½ in. (6-13 mm) hosebarb, Non-sterile, Gamma irradiatable/autoclavable
KA02DFLP2S
0.2 micron sterilizing grade and mycoplasma control, ¼ - ½ in. (6-13 mm) hosebarb, Pre-sterilized using gamma irradiation
KA02DFLP8G
0.2 micron sterilizing grade and mycoplasma control, ½ - ¾ in. (13-19 mm) sanitary flange, Gamma irradiatable/autoclavable
KA02DFLP8S
0.2 micron sterilizing grade and mycoplasma control, ½ - ¾ in. (13-19 mm) sanitary flange, Pre-sterilized using gamma irradiation