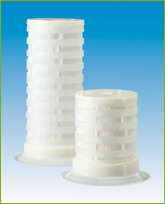 Need Help?

More Information

Description
These validated, 0.2 micron-rated sterilizing grade filters retain
Brevundimonas diminuta
(ATCC 19146) at 10
7
CFU/cm² effective filter area (EFA) and ensure very low extractables and adsorption. They are recommended for sterilizing filtration of pharmaceutical fluids including solutions with active ingredients, biologicals, biotech proteins, ophthalmics and other dilute preservative solutions.
Sealkleen filters, with a Pall-innovated design that eliminates the risk of bypass from upstream to downstream, are single-use filter cartridges to be used with purpose-designed in-line stainless steel housings. They are ideally suited for filtration requirements in small-to-medium sized GMP manufacturing operations (30 L to 500 L).
Specifications
Materials Of Construction
Filter Membrane
Hydrophilic modified PVDF
Support/Drainage
Polypropylene
End Cap, Core and Cage
Polypropylene
Sealing Technology
Thermal bonding without adhesives
Operating Parameters¹
Maximum Operating Temperature
80 °C
Maximum Differential Pressure (Forward Direction)
5.3 bar (77 psi) at 40 ºC
3.4 bar (50 psi) at 80 ºC
¹ In compatible fluids which do not soften, swell or adversely affect the filter or its materials of construction. DFL filter media may be used at 90ºC. Contact Pall for further details

Sterilization
Autoclave and In Situ steam
30 x 60 minutes at 125 °C
Typical Extractables in Water at 20 °C²
< 5 mg per Sealkleen cartridge
² Tested on elements without pre-flushing

Nominal Effective Filter Area (EFA)
SLK7001
SLK7002
900 cm² (1.0 ft²)
1900 cm² (2.0 ft²)
Nominal Dimensions
SLK7001
SLK7002
Overall Length
66 mm (2.6 in.)
133 mm (5.2 in.)

Ordering Information
Item
Part Number
Junior filter cartridge (Sealkleen style)
0.2 micron sterilizing grade
SLK7001DFLP
Junior filter cartridge (Sealkleen style)
0.2 micron sterilizing grade
SLK7002DFLP