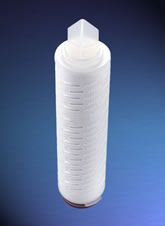 Need Help?

More Information

Description
Pall Ultipor® N66 sterilizing-grade filter cartridges feature high-strength pure Nylon 6,6 membranes for higher sterility assurance. In wide use for almost 20 years, these filters have a proven record of performance in the production of sterile biologicals and pharmaceuticals. High-area pleated into single open-ended (SOE) AB sanitary style cartridges, Ultipor N66 sterilizing-grade filter cartridges are available with ratings from 0.45 µm for LVPs, reagents and viscous fluids, 0.2 µm for sterile products and intermediates, 0.1 µm for sterilization and mycoplasma removal from biologicals, to 0.04 µm for sterilization and virus reduction from biologicals.
Features and Benefits
Intrinsically water wettable
Fixed pores, non-shedding
Resin and surfactant-free
Broad solvent compatibility
Low filter extractables
High-area for long-life
 High protein recovery from most protein solutions
Repeatedly steamable in situ
Note: These filters are also available in Kleenpak Nova capsule format.
Quality and Bio-Safety*


Integrity
Every filter integrity tested during manufacture. Test correlated to microbial retention
Biological Tests
Meets USP Biological Reactivity Test, in vivo, for Class VI-121 °C Plastics
Meets Cleanliness per USP Particulates in Injectables
Non-Fiber-Releasing per 21 CFR
Non-Pyrogenic per USP Bacterial Endotoxins (< 0.25 EU/mL)
Meets Total Organic Carbon and Water Conductivity per USP Purified Water, pH per USP Sterile Purified Water
Steam Resistance
Lot samples multi-cycle autoclave challenged
* Per lot samples soak or rinse-up flush aliquots.