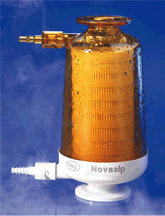 Need Help?

More Information

Description
These validated 0.2 micron-rated sterilizing-grade filters retain
Brevundimonas diminuta
(ATCC 19146) at 10
7
CFU/cm² effective filter area (EFA) and ensure very low extractables and adsorption. They are recommended for sterilizing filtration of pharmaceutical fluids including solutions with active ingredients, biologicals, biotech proteins, ophthalmics and other dilute preservative solutions.
Novasip™ capsules are the first and only single-use filter capsules that can be sterilized by in-line steaming (SIP). These robust filter capsules are an ideal low-maintenance alternative to a stainless steel housing and cartridge assembly, often still considered the only option when a filter must be integrated into an SIP system. Novasip capsules are certified for use in pharmaceutical manufacturing environments and sized for liquid volumes of 30 L to 500 L or in low-to-moderate flow air/gas/vent applications.
Features and Benefits
Low installation cost - up to 80% less than a comparable stainless steel system
Steam-in-place capability with no housing cleaning or maintenance
Clear housing for easy venting
Laser-etched serial number for easy identification
New design sanitary valves

Non-removable for safety
Non-threaded for cleanliness

Integral Stäubli*-compatible vent valve enables direct on-line connection to integrity test equipment
Non-rotating hose barb drain for safe and hygienic operation
Available in a range of media and removal ratings


* Stäubli is a trademark of Stäubli AG